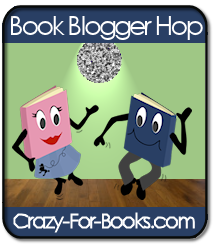 This meme is a way for book bloggers and readers to connect with other book lovers. Each weekend a new question is posted for book bloggers to answer on their blogs. The Book Blogger Hop lasts from Friday to Monday each week. Go to this weeks
post
to find out more information on this meme.
What is your favorite type of candy?
Wow! Different kind of question, but certainly Halloween-ish! =D Hmm, I can't really pick my 'favorite' type of candy. It all depends on what I'm in the mood for. I'm not a very big chocolate fan, but I absolutely love Reese's and Snicker bars. Yumm!!
And for fruity type of stuff, I love Starbursts, Jolly Ranchers, Lifesavers, and Skittles. =D
Follow Friday #5
A weekly meme hosted by Rachel @
Parajunkee
, and Alison @
Alison Can Read
.
This is a meme is a way to connect with other bloggers and to find new blogs to follow. Each Friday a new question is posted for book bloggers to answer on their blogs. Go
here
to find out more information on this
meme.
This week's Feature Follower is Heather @ Book Savvy Babe, and Anna @ The Bursting Bookshelf. So head on over and check out their blogs! =D






What Superhero is your Alter-Ego?
I'm not really sure how to answer this, I can't remember much superheroes at this moment. But I keep thinking about Rogue from the X-Men. I never read any of the comics, but I love the movies.
I can't really explain why she would be my alter-ego, but I remember when I was watching the movies and saw her and she really reminded me of myself a bit. Her powers are pretty cool, but also probably a curse.
But I know if I did have her powers, they would probably be pretty useful in some situations.
I also remember some point in middle-school dying my bangs white because of Rogue's hair. Ha-ha!
What is your favorite candy? Which superhero would be your alter-ego?
I'd love to know, so leave your comments below. =)