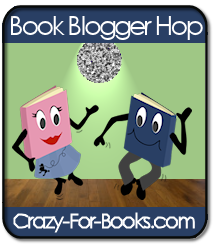 This meme is a way for book bloggers and readers to connect with other book lovers. Each weekend a new question is posted for book bloggers to answer on their blogs. The Book Blogger Hop lasts from Friday to Monday each week. Go to this weeks
post
to find out more information on this meme.
This weeks question is:
Tell us about one of your posts from this week and give us a link so we can read it (review or otherwise)!
I haven't really posted any reviews this week. But I did make a post about my 'Most Read Authors' from the new feature on Goodreads under the same title. I learned about this new feature from Kristi @
the Story Siren
, and saw another post about it from Ashley @
the Book Labryinth
.
I really thought their posts and this feature were interesting, so I decided to do my own. Here is a link to my
Most Read Authors
post. And when you get a chance, you should check out this new feature on your Goodreads and share your Most Read Authors. :) And when you do, I'd love to hear what they are.