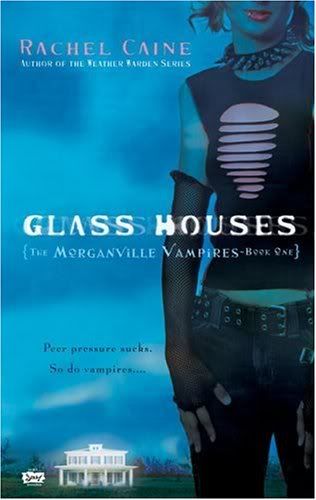 Glass Houses by Rachel Caine
The Morganville Vampires, book #1
Next book in series:
The Dead Girls' Dance
Publisher:
NAL Jam
Mass Market Paperback: 256 Pages
Age Group: Young Adult (13+)
Buy:
Glass Houses
Source: Own
Date Read: April 2010
Overall:

College freshman Claire Danvers has had enough of her nightmarish dorm situation. When Claire heads off-campus, the imposing old house where she finds a room may not be much better. Her new roommates don't show many signs of life, but they'll have Claire's back when the town's deepest secrets come crawling out, hungry for fresh blood.
First Lines:

On the day Claire became a member of the Glass House, somebody stole her laundry.
I'm going to start with the fact that at the time when I went to read this, I had been in a complete reading rut for a long while, it took me months to read just one book when normally it took me from a few hours to a few days to complete a book, depending on their size. But then I decided to try and get back into my reading and I remembered the Morganville Vampires series. I owned books one through five at the time, and I hadn't read them yet. Except for the fact I started reading Glass Houses a long time ago when I checked it out at the library, but then had to bring it back before I had finished it.
I had only gotten not even halfway through. After my birthday one year I decided to order all the books that were currently out in the series with a Books-a-Million gift card I had received. I remembered how much I had loved the bit I had read and so I grabbed Glass Houses, hoping it would be the book to snatch me out of my reading rut.
And guess what, it did! The world Rachel Caine has created is so different from the normal worlds of books with vampires in them. Truthfully, it is so hard to find a good vampire book these days with a unique plot and storyline, because sadly most of it has already been used before, which is really sad to a vampire lover like me.
When I learned that the town was run by vampires and that all the humans that lived in Morganville knew, it completely blew my mind! And not only that, but the vampires in the Morganville Vampires are bad! Not all of them are, but most.
All I can say it that Rachel Caine is brilliant. She has also become an inspiration to my writing, so kudos to her for that as well.
I really loved the main characters. Claire kind of annoyed me at first, but later as she started developing more she became more real to me and less annoying. I absolutely love, love, love Eve. And Shane and Michael as well, god they are hot! But Eve is my favorite character.
All I can say about Monica though is that I wanted to slap her 99% of the time. I really wish someone would kick her butt.
Not only do I love the characters, and basically everything else about this book, but the cover. It's really pretty. I know you should never judge a book by its cover, but a good story should always have a beautiful cover. Am I right?
The end of this book ended with a complete cliffhanger. Seriously made my jaw drop and run to my shelf to grab the second book, The Dead Girls' Dance. Sometimes I hate cliff hangers, but in this case I had the next book so it didn't bother me much. Except for the five seconds it took to grab the next installment.
Overall, I thought that Glass Houses was a great first edition to the Morganville Vampires series and it's now one of my favorite series. I highly recommend this book. It's a must read for vampire lovers, fantasy lovers and just book lovers. If you haven't read Glass Houses you should really grab a copy of it, or at least borrow it from the library or a friend. You do NOT want to miss out on this book.
Cover:

I love the cover. It's very dark, and mysterious and I love the picture of the house in the background.
I recommend this to: All vampire fans. Period.