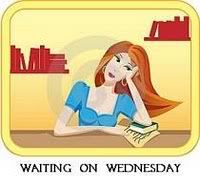 This meme spotlights upcoming releases that we just CAN'T wait to get our hands on!
The Curse Workers, book #2
Release Date: April 5, 2011
Pre-Order It:
Amazon
After rescuing his brothers from Zacharov's retribution and finding out that Lila, the girl he has loved his whole life, will never, ever be his now that his mother has worked her, Cassel is trying to reestablish some kind of normalcy in his life. That was never going to be easy for someone from a worker family tied to one of the big crime families and a mother whose cons get more reckless by the day. But Cassel is also coming to terms with what it means to be a transformation worker and figuring out how to have friends.

But normal doesn't last very long--soon Cassel is being courted by both sides of the law and is forced to confront his past. A past he remembers only in scattered fragments and one that could destroy his family and his future. Cassel will have to decide whose side he wants to be on because neutrality is not an option. And then he will have to pull off his biggest con ever to survive.
My 'Waiting on Wednesday' pick this week is Red Glove. I just finished White Cat and it was amazing. (My review will be up soon!) So naturally I have to read the sequel! And I really love the cover. :) I'm very curious about the red glove. What's so special about it? It looks so mysterious on the cover.