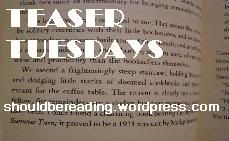 A weekly meme hosted by MizB @ Should Be Reading.
Anyone can join, just do the following:
Grab your current read.

Open to a random page.

Share two (2) "teaser" sentences from somewhere on that page.

Just be careful NOT to include spoilers. You don't want to ruin it for others who haven't read the book.

Share the title and author

, so others can add the book to their reading list, if they wish.
Release Date: May 24, 2011
From bestselling, Printz award-winning author Libba Bray comes the story of a plane of beauty pageant contestants that crashes on a desert island.




Teen beauty queens. A "Lost"-like island. Mysteries and dangers. No access to emall. And the spirit of fierce, feral competition that lives underground in girls, a savage brutality that can only be revealed by a journey into the heart of non-exfoliated darkness. Oh, the horror, the horror! Only funnier. With evening gowns. And a body count.
Teaser: MoMo didn't like feeling suspicious. But you didn't get to have your own country named after you for being a tool. pg. 325