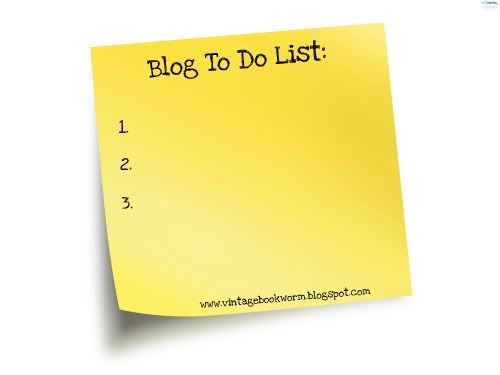 As I said a few days ago, I had a little "unofficial" hiatus. I read a lot during that time (About 8!) and so I have a lot of reviews to schedule. Some of them are up, but I have about five to put up now. And I really want to update some pages and my sidebars and things.
So, I made up a To-Do List! I sometimes do that to get things down that I want/need to do, so I won't forget. I love checking something off my list! It's a great feeling, and an even greater feeling when that list is completely checked off.
In the middle of writing down my blog's To-Do List, I started wondering if other bloggers make blog To-Do lists, which I am pretty sure they do! But do they ever share them? No! I'm very curious to see them, oddly. Ha-ha! Just to know I'm not alone. But I think it would be cool to have a meme for each Sunday or Monday where you can put up a list of bookish things you want/need to do that week. Like book reviews you need to post or schedule, books you would like to read, things you need to switch around or update on your blog.
For right now though, this is my list for right now, but I will hopefully be posting a new one for the start of the meme on Sunday/Monday.
Write review for Ten Things We Did (and Probably Shouldn't Have) by Sarah Mlynowski, schedule
Write review for The Lost Saint by Bree Despain, schedule
Write review for Never Cry Werewolf by Heather Davis, schedule
Write review for Red Glove by Holly Black, schedule
Write review for Timeless by Alexandra Monir, schedule
Write review for Hex Hall by Rachel Hawkins, schedule
Post reviews on Goodreads, Amazon, Book Depository, & Random Buzzers
Catch up on blogs & comment
Edit Bookshelf Tour video & upload to Youtube, post
I will most likely be posting it on Sunday, but it could be Monday. Any suggestions? I'll post it and maybe add a linky on the bottom of the post so anyone can join in and I would love to see your lists!