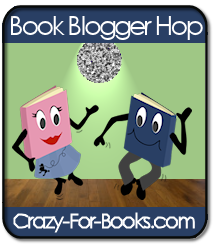 This meme is a way for book bloggers and readers to connect with other book lovers. Each weekend a new question is posted for book bloggers to answer on their blogs. The Book Blogger Hop lasts from Friday to Monday each week. Go to this weeks post to find out more information on this meme.
"What are you most looking forward to this fall/autumn season – A particular book release? Halloween? The leaves changing color? Cooler temperatures? A vacation? (If your next season is other than fall/autumn, tell us about it and what you are most looking forward to in your part of the world!)"
Hmm, I'm not really sure. Even though I'm going to miss Summer just a teensy bit (I don't like the heat very much. I really wish you could wake up each morning and tell Mother Nature what you would like the weather and temperature to be like. Does everyone agree? lol) I am looking forward to it getting cool. I think my favorite season is the time between Fall and Winter. I also really like Halloween. =) Ooh, which actually makes me think about Pretty Little Liars! It comes back on on my husband's birthday in October! VERY excited for that. Tuesday's episode left with an annoying cliff hanger!
Book wise, I will tel you a few books I am very excited for. =) And those are:
* Fateful by Claudia Gray - September 1, 2011
* Sweet Venom by Tera Lynn Childs - September 6, 2011
* After Obsession by Carrie Jones & Steven E. Wedel- September 13, 2011
* Lola & The Boy Next Door by Stephanie Perkins - September 29, 2011 *SQUEE!*
* The Scorpio Races by Maggie Stiefvater - October 18, 2011
and many, many, many more!
What are you looking forward to this Fall?