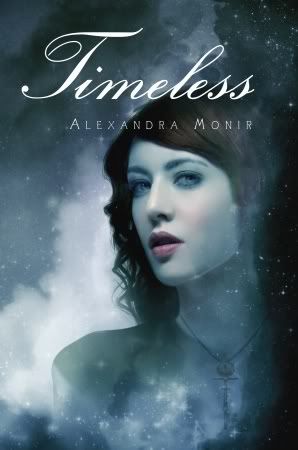 Timeless
by
Alexandra Monir
(
Timeless
, #1)
Publisher:
Delecorte Books for Young Readers
Release Date:
January 11, 2011
Hardcover:
304 pages
Age Group:
Young Adult
Buy:
Amazon
Source:
Library
Challenge:
Debut Author
,
A to Z
,
Support Your Local Library
Overall:

When tragedy strikes Michele Windsor's world, she is forced to uproot her life and move across the country to New York City, to live with the wealthy, aristocratic grandparents she's never met. In their old Fifth Avenue mansion filled with a century's worth of family secrets, Michele discovers a diary that hurtles her back in time to the year 1910. There, in the midst of the glamorous Gilded Age, Michele meets the young man with striking blue eyes who has haunted her dreams all her life – a man she always wished was real, but never imagined could actually exist. And she finds herself falling for him, into an otherworldly, time-crossed romance.

Michele is soon leading a double life, struggling to balance her contemporary high school world with her escapes into the past. But when she stumbles upon a terrible discovery, she is propelled on a race through history to save the boy she loves – a quest that will determine the fate of both of their lives.
Wow. I finished this book about a month ago now and I'm still thinking about it. When I look at this book I can't help but smile. It is so romantic and heart-wrenching. I knew from the moment I heard about this book that I wanted to read it, and I knew I would love it. It's just one of those books you know the moment you hear about it that you are going to like it. It definitely did NOT disappoint me!
I've had time to think over what I was going to say about this book in my review, but I am still in shock over it all. I'm still wondering "What the hell just happened here?" but in a completely good way. It's just one of those books that is overly amazing and you are wondering minutes, hours, days, months what the heck just happened. Until you finally get the next installment and dive in and get that "Ahhhhh" =) feeling. You know what I mean?
Not only is this book AMAZING, but it's utterly beautiful. The writing is gorgeous! And the descriptions. Arg! Makes it even more amazing. I love the lyrics added in, they are beautiful. Monir put juuust the right amount into it to where it wasn't major overload.
The plot is unique and just very romantic. This book made me hurt so badly for Michele. Everything she had to endure with her mom and then with Philip.
Oh, and you can definitely NOT forget about the awesome history that is in this book and how well crafted and genius Monir put this book together! You won't really understand until you read this book and that's all I'm going to say.
Overall, I can't really say much about this book until after you read it. Whenever you do, please send me an email and strike up a conversation about this book so I can overload you on how awesome I think this book is and we can discuss the awesome-ness of it. Please?? I'm DYING for the sequel. Seriously.
Also, the
cover
is GORGEOUS! It's so, so, so beautiful! Possibly one of my top five favorite covers of the year.
The second book in this new series is called The Time Keeper. It is expected to be out in 2012.