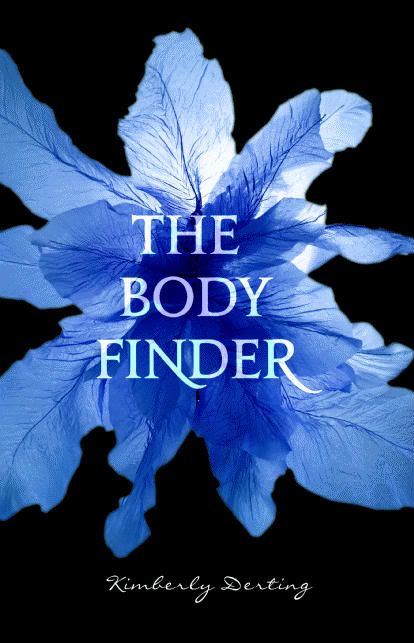 The Body Finder

, by Kimberly Derting
(The Body Finder, #1)
Publisher:
Harperteen
Release Date: February 10, 2011
Hardcover: 336 pages
Age Group: Young Adult
Buy:
Amazon
Source: Library
Challenge:
Support Your Local Library
Rating:



To learn more about my rating badges, click
here
!
Violet Ambrose is grappling with two major issues: Jay Heaton and her morbid secret ability. While the sixteen-year-old is confused by her new feelings for her best friend since childhood, she is more disturbed by her "power" to sense dead bodies—or at least those that have been murdered. Since she was a little girl, she has felt the echoes that the dead leave behind in the world... and the imprints that attach to their killers.




Violet has never considered her strange talent to be a gift; it mostly just led her to find the dead birds her cat had tired of playing with. But now that a serial killer has begun terrorizing her small town, and the echoes of the local girls he's claimed haunt her daily, she realizes she might be the only person who can stop him.




Despite his fierce protectiveness over her, Jay reluctantly agrees to help Violet on her quest to find the murderer—and Violet is unnerved to find herself hoping that Jay's intentions are much more than friendly. But even as she's falling intensely in love, Violet is getting closer and closer to discovering a killer... and becoming his prey herself.
The Body Finder is a very original story. I added it to my list of books to read back in 2009 when I first heard about it before it debuting in 2010. I knew from the summary that it was going to be amazing and knock my socks off. It took me a while to finally get my hands on this from the library to read, and plus all the other books on my to-read list, but I finally got to read it and I am very glad I don't have to wait a year for the sequel because it was released earlier this year.
I was hooked from the very beginning. The Prologue was intriguing and made me want to know more from the very first page. I couldn't turn the pages fast enough! It got me out of my reading slump! I haven't finished a book in a while, since my last review for The Iron King (I posted that review on December 1st!). I don't know why,but I just fell into a reading slump and couldn't get out of it. I was attempting books in series I love, but couldn't get into them. So I picked this up, and bam!
The title really suits Violet's abilities well. I was really curious about the title and her ability to find the dead. Not only can she find the dead, but they each have a specific "echo". Also, the echo leaves an imprint on whatever killed the body (It can be animal or human.). But it's different, I guess, with those who weren't killed.
Violet is a very good character, I really liked her. Also, her best friend Jay, who she is totally in love with is amazing. They were my two favorite characters. I can't really think of anything at the moment that bugged me, other than the fact of their feelings for one another which is totally see through from the very beginning. (Sigh! It was so adorable!)
Also, Violet doesn't think negatively about herself like most YA heroines seem to do. Which was a relief because I'm really getting tired of them. And she isn't popular, or a loser. She's somewhere in the middle. She doesn't want to be popular either. Very fresh and added to her character. She also went to the bathroom! Which you hardly EVER see in books. I know this is random, but does it bother y'all when a character doesn't go to the bathroom? I mean, I know it's not necessary to add it into the book, but still. Am I right?
In different chapters, at the end before the new chapter begins, there is a few pages from the killer's point of view, which I loved! It was mega creepy and just a very great add on! It really added to the story and every time I finished a chapter and saw the killer's point of view I couldn't wait to read it! The mystery in the book is amazing and you don't really know who it is until it is revealed. Which I loved too. There are way too many mystery books out there that you can totally see who the suspect is chapters ahead.
Overall, I can't wait to read the next one. This book is up high on my faves! The writing flowed well and just was amazing. I don't really know what else to say. Just read it! Soon!
The second book in this series is called Desires of the Dead. It was released on February 15th, 2011.