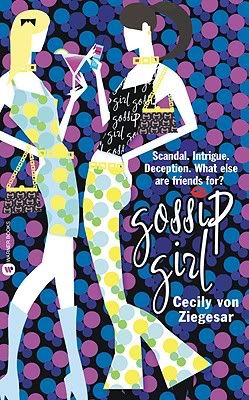 Gossip Girl
, by
Cecily von Ziegesar
(
Gossip Girl
, #1)
Publisher:
Warner Books
Release Date:
April 1, 2002
Mass Market Paperback:
269 pages
Genre:
Young Adult Contemporary/Chick Lit
Buy:
Amazon
Source:
Library
Challenge:
TBR Pile
Rating:

To learn more about my rating badges, click
here
!
Welcome to New York City's Upper East Side where my friends and I live, and go to school, and play, and sleep- sometimes with each other. We all live in huge apartments with our own bedrooms and bathrooms and phone lines. We're smart, we've inherited classic good looks, we have fantastic clothes, and we know how to party... Introducing Gossip Girl, a wickedly funny and risqu» paperback original novel about the provocative lives of New York City's most prestigious private school young adults. Gossip Girl herself is an anonymous narrator with the ultimate insider scoop on the inner-workings of this privileged society because she's one of them. Sharp wit, intriguing characters, and high stakes melodrama drive the action of this addictive novel that will make Gossip Girl the lit world's new "it" girl. In Gossip Girl, when the beautiful Serena van der Woodsen returns to private school after mysteriously getting kicked out of boarding school, the whole school is talking. All Blair Waldorf knows is that there's no freaking way Serena's going to just waltz back in with her Jimmy Choo mules and Kate Spade bag and steal everyone's heart again. But Serena's got other things on her mind, like college pressure and living up to everyone else's extreme expectations. Plus there's that Ryan Phillippe-looking guy who stands across the street and stares at her all the time. It's going to be a wild and wicked year, I can smell it. Love, Gossip Girl
This is going to be a hard review to write! I started getting on Netflix about a month or two ago and I saw that the Gossip Girl TV show was on there and I got excited! I hadn't watched the show since the second season and had never seen the first season and I really wanted to catch up. So I started watching from the beginning and got majorly hooked. SERIOUSLY hooked. It's all I could think about and I'd devour
at least
six
episodes a night. Most of the time more! I got caught up before it came back on, but when I was caught up and was waiting around for it to come back on I decided I wanted to read the books. I couldn't find the first book in my library, but last week I finally did and was so very happy.
I heard that there are a lot of things different between the show and book, but I really had no idea what I was in for! There is so much that is different, but at the same time you see small or big parts taken out of the book and thrown into the show. Which is awesome. I'm still getting used to the differences, so that's why I gave it three starts.
Don't get me wrong, I really did enjoy reading this book. I am definitely going to pick up the second book soon, but it's just so weird. Do you know what I mean? And at times I got annoyed at the writing, it's hard to explain.
Overall, this is one of my new guilty pleasures. It really was an enjoyable, fast read. I do hope it gets better soon though. Not really sure what else to say about this book. But if you are a Gossip Girl fanatic, I would definitely read them. But beware of the differences! At times its HUGE.
The second book in this series is called You Know You Love Me. It was released on September 1, 2002.