Past, Present, & Future Reading Pile
is a new feature on my blog where I "hopefully" post every Monday to keep track of the books I've read the week before, what I'm currently reading and which books I hope to start and finish during that week.
*Note*: If you've seen a similar thing around, please let me know so I can credit them saying they were what inspired this new feature. Thanks!
Release Date: September 27, 2011
Mara Dyer doesn't think life can get any stranger than waking up in a hospital with no memory of how she got there.

It can.
She believes there must be more to the accident she can't remember that killed her friends and left her mysteriously unharmed.
There is.
She doesn't believe that after everything she's been through, she can fall in love.
She's wrong.
Amazing! Click
here
to read my review!
Fateful
, by
Claudia Gray
Publisher:
HarperTeen
Release Date:
September 13, 2011
Eighteen-year-old maid Tess Davies is determined to escape the wealthy, troubled family she serves. It's 1912, and Tess has been trapped in the employ of the Lisles for years, amid painful memories and twisted secrets. But now the Lisle family is headed to America, with Tess in tow. Once the ship they're sailing on—the RMS

Titanic

—reaches its destination, Tess plans to strike out and create a new life for herself.

Her single-minded focus shatters when she meets Alec, a handsome first-class passenger who captivates her instantly. But Alec has secrets of his own. He's in a hurry to leave Europe, and whispers aboard the ship say it's because of the tragic end of his last affair with the French actress who died so gruesomely and so mysteriously. . . .

Soon Tess will learn just how dark Alec's past truly is. The danger they face is no ordinary enemy: werewolves exist and are stalking him—and now her, too. Her growing love for Alec will put Tess in mortal peril, and fate will do the same before their journey on the Titanic is over.
Another amazing book! It was very heart-wrenching. My review is set to post on Thursday, January 19th, 2012. So be ready!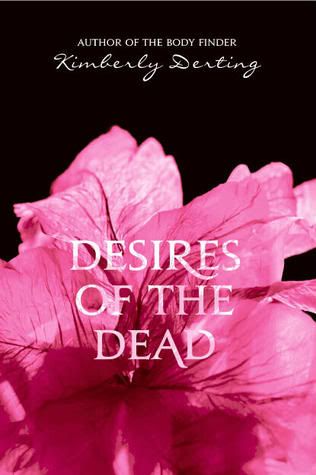 Desires of the Dead
, by
Kimberly Derting
(
The Body Finder
, #2)
Publisher:
HarperTeen
Release Date:
February 15, 2011
The missing dead call to Violet. They want to be found.

Violet can sense the echoes of those who've been murdered—and the matching imprint that clings to their killers. Only those closest to her know what she is capable of, but when she discovers the body of a young boy she also draws the attention of the FBI, threatening her entire way of life.

As Violet works to keep her morbid ability a secret, she unwittingly becomes the object of a dangerous obsession. Normally she'd turn to her best friend, Jay, except now that they are officially a couple, the rules of their relationship seem to have changed. And with Jay spending more and more time with his new friend Mike, Violet is left with too much time on her hands as she wonders where things went wrong. But when she fills the void by digging into Mike's tragic family history, she stumbles upon a dark truth that could put everyone in danger.
Ahh, I need the third book NOW! Click
here
to read my review of The Body Finder. I haven't scheduled my post for the review of
Desires of the Dead
yet, but I will be soon! =D It will most likely be scheduled to post on Sunday, January 22, 2012.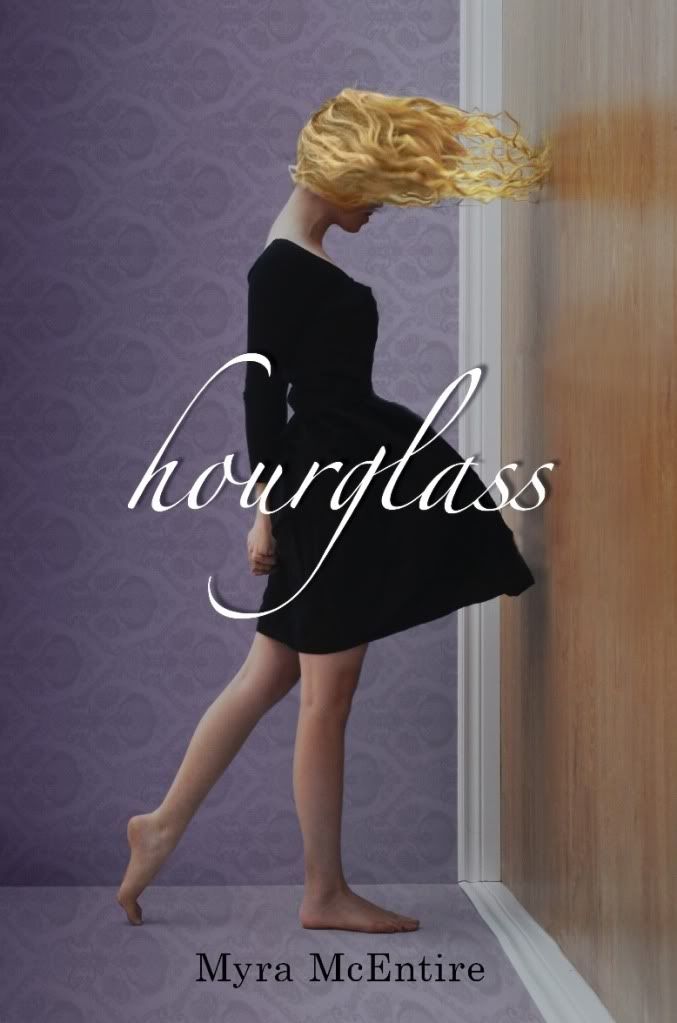 Hourglass
, by
Myra McEntire
(
Hourglass
, #1)
Publisher:
EgmontUSA
Release Date:
June 14, 2012
One hour to rewrite the past . . .

For seventeen-year-old Emerson Cole, life is about seeing what isn't there: swooning Southern Belles; soldiers long forgotten; a haunting jazz trio that vanishes in an instant. Plagued by phantoms since her parents' death, she just wants the apparitions to stop so she can be normal. She's tried everything, but the visions keep coming back.




So when her well-meaning brother brings in a consultant from a secretive organization called the Hourglass, Emerson's willing to try one last cure. But meeting Michael Weaver may not only change her future, it may change her past.

Who is this dark, mysterious, sympathetic guy, barely older than Emerson herself, who seems to believe every crazy word she says? Why does an electric charge seem to run through the room whenever he's around? And why is he so insistent that he needs her help to prevent a death that never should have happened?
This was freaking amazing. I REALLY need Timepiece. Now. Please?! I think this may be the most original story I've read this year! I'll most likely be scheduling this on Thursday, January 26, 2012.
Wow, sine my internet was out for nearly the whole week, I was able to read three books and finish Mara Dyer. That's amazing in my world right now! Hopefully I can do the same this week.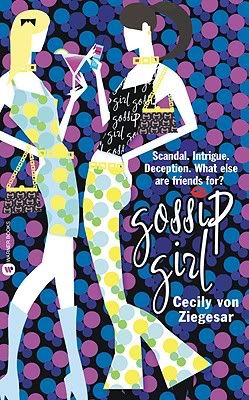 Release Date: April 1, 2002
Welcome to New York City's Upper East Side where my friends and I live, and go to school, and play, and sleep- sometimes with each other. We all live in huge apartments with our own bedrooms and bathrooms and phone lines. We're smart, we've inherited classic good looks, we have fantastic clothes, and we know how to party... Introducing Gossip Girl, a wickedly funny and risqu» paperback original novel about the provocative lives of New York City's most prestigious private school young adults. Gossip Girl herself is an anonymous narrator with the ultimate insider scoop on the inner-workings of this privileged society because she's one of them. Sharp wit, intriguing characters, and high stakes melodrama drive the action of this addictive novel that will make Gossip Girl the lit world's new "it" girl. In Gossip Girl, when the beautiful Serena van der Woodsen returns to private school after mysteriously getting kicked out of boarding school, the whole school is talking. All Blair Waldorf knows is that there's no freaking way Serena's going to just waltz back in with her Jimmy Choo mules and Kate Spade bag and steal everyone's heart again. But Serena's got other things on her mind, like college pressure and living up to everyone else's extreme expectations. Plus there's that Ryan Phillippe-looking guy who stands across the street and stares at her all the time. It's going to be a wild and wicked year, I can smell it. Love, Gossip Girl
I love the Gossip Girl TV show, so it made me really curious about the books. I finally got my hands on a copy of GG and I'm currently reading it. I'm only about 50 pages or so in right now, and so far it's pretty good. =)
The Future
After I finish Gossip Girl, I hope to re-read Evermore and then read the sequel Blue Moon.=) Hopefully I can get through them this week. =)
What are your Past, Present & Future Reads? Leave a comment telling me what books you just finished, what book you're currently reading and what books you hope to get to this week. =D
Happy reading! I hope everyone had a great week last week!