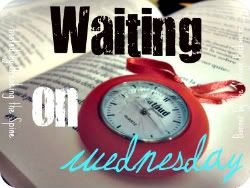 Waiting on Wednsday
is a weekly meme hosted by Jill @ Breaking the Spine.
WOW
spotlights upcoming releases that you are dying to read and can't wait to get your hands on!
Note: All my links go to Goodreads, the author's website, and the publisher's website.
Release Date: April 17, 2012
Pre-Order:
Amazon
Violet kept her morbid ability to sense dead bodies a secret from everyone except her family and her childhood-best-friend-turned-boyfriend, Jay Heaton. That is until forensic psychologist Sara Priest discovered Violet's talent and invited her to use her gift to track down murderers. Now, as she works with an eclectic group of individuals—including mysterious and dangerously attractive Rafe—it's Violet's job to help those who have been murdered by bringing their killers to justice. When Violet discovers the body of a college girl killed by "the girlfriend collector" she is determined to solve the case. But now the serial killer is on the lookout for a new "relationship" and Violet may have caught his eye....
I absolutely LOVE this series. I'm really excited for this book! And I love the cover. =) I can't wait to see what happens. I would trade my soul right now for an ARC of this book, ha! Anyone know where I can find the book devil?