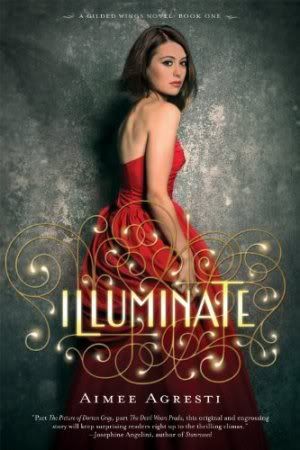 Illuminate
, by
Aimee Agresti
(
Gilded Wings
, #1)
Publisher:
Hartcourt Children's Books
Release Date:
March 6, 2012
Hardcover:
534 pages
Genre:
Young Adult Paranormal
Buy:
Amazon
Read it in:
11 days
Source:
Publisher
Challenge:
Debut Author
,
TBR Pile
Rating:


To learn more about my rating badges, click
here
!
Haven Terra is a brainy, shy high school outcast. But everything begins to change when she turns sixteen. Along with her best friend Dante and their quiet and brilliant classmate Lance, she is awarded a prestigious internship in the big city— Chicago—and is sent to live and work at a swanky and stylish hotel under the watchful eyes of a group of gorgeous and shockingly young-looking strangers: powerful and alluring hotel owner Aurelia Brown; her second-in-command, the dashing Lucian Grove; and their stunning but aloof staff of glamazons called The Outfit.




As Haven begins falling for Lucian, she discovers that these beautiful people are not quite what they seem. With the help of a mysterious book, she uncovers a network of secret passageways from the hotel's jazz-age past that leads her to the heart of the evil agenda of Aurelia and company: they're in the business of buying souls. Will they succeed in wooing Haven to join them in their recruitment efforts, or will she be able to thwart this devilish set's plans to take the souls of her classmates on prom night at the hotel?


Illuminate

is an exciting saga of a teen's first taste of independence, her experience in the lap of luxury, and her discovery she may possess strength greater than she ever knew.
Illuminate
was just wow. I was really curious about it when I read the summary and then when the cover was revealed, I fell in love. I was enchanted by the cover, so when I received it for review in the mail and saw the finished copy. I was in awe! I sat staring at the shiny cover for a few minutes. My husband had to literally pry it from my hands.
I couldn't wait to start it and when I finally did I was surprised. It was very good and hooked me from the very first chapter, but it was different than I thought it would be. You'd think that going through Haven's day to day life would be boring after a little while, but it wasn't. Each day held another clue to what will be happening later in the book and gives you another puzzle piece to your collection so you can keep adding them up.
It took me a while to read this book. I caught the stomach flu a few days after starting it and I didn't feel like doing anything, not even reading. But when I wasn't reading it I kept wanting to. I kept thinking about it and how weird the characters were. A lot of the characters in this book seem perfect, beautiful, established. But they have a huge secret! Which I'm not going to tell!
All the characters, even though most of them were bad, seemed really well put together and had their own voices. I liked Aurelia and Lucian, though after a while I started not trusting them. Something always bugged me about them. They were too perfect. And now I know why!
Haven, the main character, kind of annoyed me a little bit in the first few chapters, but then she grew on me and her character grew SO much by the end of the book. She's definitely a new person now, which is not a surprise with what she's learned and had to deal with.
And ah, Dante! I loved him, he was such a funny character and a great best friend. He's gay, which added to my list of awesome main character best friends. They are so fun to read about. He wasn't in the book as much as I would have liked, but you understand in the end. And ahh, Lance! He kind of weirded me out in the beginning, but I grew to love him and he was so swoon worthy by the end of the book. He is definitely a Clark Kent. =D
The writing was amazing. Aimee has definitely made it onto my authors I admire list. She gives such great detail and paints a vivid picture in your mind, and she wrote this HUGE book that was amazing and she added a lot of its own great history to it and I'm left thinking "Wow, I want to do this." She's definitely on my author watch list now.
Overall, this book was really good. The only problem that I had with it is that it kind of dragged a little bit in the middle, but surprisingly was still very much enjoyable to read even when it did drag. But the ending was kick ass. I loved it. I can't wait for the sequel, I wish I had it right now! This IS an angel book, but it's very unique. I recommend it! It has a little bit of heaven AND hell in it. Literally. =D You definitely want to check this book out. GREAT 2012 debut!
At this time, I have no idea of the title or release date of the second book. I'll come back and edit this later when I have the information!