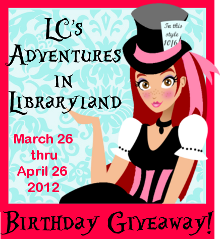 LC's Adventures in Libraryland
is turning
ONE
! It's been a whole year since the awesome Lea created LC's Adventures in Libraryland. Can you believe that?! Every time I go to her blog, I always think that it's been around a lot longer than that!
Since her blog is turning one, she's decided to have an awesome giveaway! It will run from March 26th to April 26th. That is a LONG time! Enough time to get a lot of entries in to increase your chances of winning one of the three winner slots!
First Place Winner gets their choice of TWO (2) books from The Book Depository.
Second & Third Place Winner gets their choices of ONE (1) book from The Book Depository.
Isn't that generous?! I know I'll be trying to earn all my entries to get a chance at even Second or Third place!
To learn more information and/or to join, please click
here
to see her original post!
Good luck and may the odds be ever in your favor! (Can you tell I'm still in Hunger Game mode? Even though I saw it on Sunday?!)