Past, Present, & Future Reading Pile
is a feature on my blog where I do a post every Sunday to keep track of the books I've read the week before, what I'm currently reading and which books I hope to start and finish during that week.
Release Date: May 8, 2012
A story of crushes, corsets, and conspiracy



Libby Kelting had always felt herself born out of time. No wonder the historical romance-reading, Jane Austen-adaptation-watching, all-around history nerd jumped at the chance to intern at Camden Harbor, Maine's Oldest Living History Museum. But at Camden Harbor Libby's just plain out of place, no matter how cute she looks in a corset. Her cat-loving coworker wants her dead, the too-smart-for-his-own-good local reporter keeps pushing her buttons, her gorgeous sailor may be more shipwreck than dreamboat — plus Camden Harbor's haunted. Over the course of one unforgettable summer, Libby learns that boys, like ghosts, aren't always what they seem.
I only finished this one book this week. Last Sunday I started reading The Betrayal of Maggie Blair, and by Thursday I still hadn't reached 100 pages and just didn't want to read when I thought about it. The idea of the book is interesting, and I was a bit intrigued, but I just wasn't in the mood for it and it just didn't hold me completely. So I decided to pick up a short contemporary and this was next on my list! I wish there were a sequel, it would be fun! I want more Libby and Garrett! Look out for my review this week!
Total Books: 1
The Present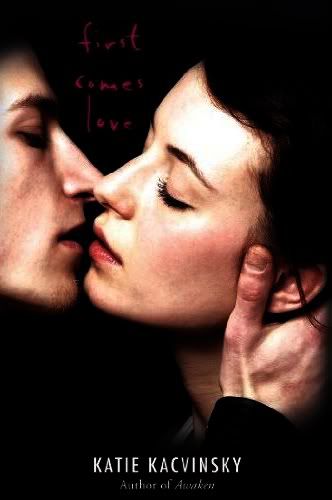 Release Date: May 8, 2012
Like his name, Gray is dark and stormy. Dylan, a girl always searching for what's next, seemingly unable to settle down, is the exact opposite: full of light and life. On the outside, they seem like an unlikely couple. But looks can be deceiving and besides, opposites attract.

What starts as friendship, turns into admiration, respect and caring, until finally these two lone souls find they are truly in love with each other.



But staying in love is not as easy as falling in love. If Dylan and Gray want their love to last, they're going to have to work at it. And learn that sometimes love means having to say you're sorry.
I haven't started this yet, but will tonight before I go to bed! =) Another short contemporary.
The Future
Release Date: May 3, 2012
Kyla's memory has been erased,
her personality wiped blank,
her memories lost for ever.

She's been Slated.



The government claims she was a terrorist, and that they are giving her a second chance - as long as she plays by their rules. But echoes of the past whisper in Kyla's mind. Someone is lying to her, and nothing is as it seems. Who can she trust in her search for the truth?
Once I finish
First Comes Love
, I'll move onto this book. =) It sounds interesting.
So what have you read this week? Currently reading? Reading in the future?? Also, are you involved in
Angela
's Page Count Contest?? April was it's first month running and it's happening again in May! I wasn't as involved in it as I would have liked to of been in April, but maybe May will help kick me in shape! If you're interested in learning more about it and signing up,
click here
!