Past, Present, & Future Reading Pile
is a feature on my blog where I do a post every Sunday to keep track of the books I've read the week before, what I'm currently reading and which books I hope to start and finish during that week.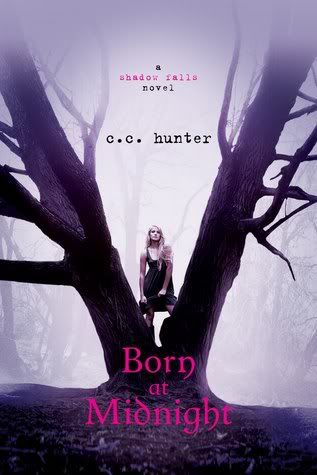 Release Date: March 29, 2011
One night Kylie Galen finds herself at the wrong party, with the wrong people, and it changes her life forever. Her mother ships her off to Shadow Falls—a camp for troubled teens, and within hours of arriving, it becomes painfully clear that her fellow campers aren't just "troubled." Here at Shadow Falls, vampires, werewolves, shapshifters, witches and fairies train side by side—learning to harness their powers, control their magic and live in the normal world.




Kylie's never felt normal, but surely she doesn't belong here with a bunch of paranormal freaks either. Or does she? They insist Kylie is one of them, and that she was brought here for a reason. As if life wasn't complicated enough, enter Derek and Lucas. Derek's a half-fae who's determined to be her boyfriend, and Lucas is a smokin' hot werewolf with whom Kylie shares a secret past. Both Derek and Lucas couldn't be more different, but they both have a powerful hold on her heart.




Even though Kylie feels deeply uncertain about everything, one thing is becoming painfully clear—Shadow Falls is exactly where she belongs…
Well, I FINALLY finished this book on Friday. I can't wait to read book 2! I need to get it from the library or something, but I made a ban from going to the library until I read so many books that I have here....Bummer. You can read my review
here
!
Total Books: 1
The Present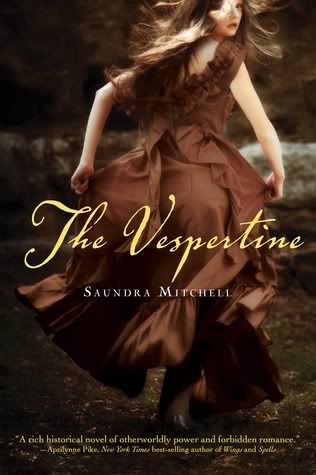 Release Date: March 7, 2011
It's the summer of 1889, and Amelia van den Broek is new to Baltimore and eager to take in all the pleasures the city has to offer. But her gaiety is interrupted by disturbing, dreamlike visions she has only at sunset—visions that offer glimpses of the future. Soon, friends and strangers alike call on Amelia to hear her prophecies. However, a forbidden romance with Nathaniel, an artist, threatens the new life Amelia is building in Baltimore. This enigmatic young man is keeping secrets of his own—still, Amelia finds herself irrepressibly drawn to him. When one of her darkest visions comes to pass, Amelia's world is thrown into chaos. And those around her begin to wonder if she's not the seer of dark portents, but the cause.
I just started this book on Saturday. So far it's pretty interesting. It's taking a little bit to get into it with the language because I haven't been reading many novels lately that isn't in this decade. But I'm really intrigued by this book! I'm currently a little over 60 pages in. I plan on trying to finish this soon!
The Future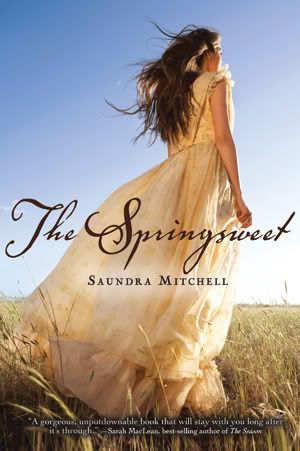 Release Date: April 17, 2012
Heartbroken over the tragic death of her fiancé, seventeen-year-old Zora Stewart leaves

Baltimore for the frontier town of West Glory, Oklahoma, to help her young widowed

aunt keep her homestead going. There she discovers that she possesses the astonishing

ability to sense water under the parched earth. When her aunt hires her out as a

"springsweet" to advise other settlers where to dig their wells, Zora feels the burden of

holding the key to something so essential to survival in this unforgiving land.

Even more, she finds herself longing for love the way the prairie thirsts for water.

Maybe, in the wildness of the territories, Zora can finally move beyond simply surviving

and start living.
After I finish The Vespertine, I'm going to dive into it's sequel, The Springsweet. I really love the cover for it! What did you read this week? What are you currently reading? What will you be reading next?? I want to know! Leave me a comment letting me know. =)