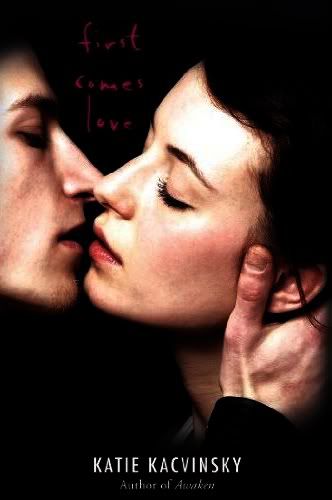 First Comes Love
, by Katie Kacvinsky
Author Info:
Website
/
Blog
/
Twitter
/
Facebook
Publisher:
Houghtin Mifflin Harcourt
Release Date:
May 8, 2012
Hardcover:
208 pages
Genre:
Young Adult Contemporary
Buy:
Amazon
Read it in:
6 days
Source:
Publisher
Challenge:
Sophomore Reading
,
YA Contemporary
Rating:


To learn more about my rating badges, click
here
!
Like his name, Gray is dark and stormy. Dylan, a girl always searching for what's next, seemingly unable to settle down, is the exact opposite: full of light and life. On the outside, they seem like an unlikely couple. But looks can be deceiving and besides, opposites attract.




What starts as friendship, turns into admiration, respect and caring, until finally these two lone souls find they are truly in love with each other.




But staying in love is not as easy as falling in love. If Dylan and Gray want their love to last, they're going to have to work at it. And learn that sometimes love means having to say you're sorry.
When I cracked open this book, I didn't know what I was getting myself into. I had read the summary, and it sounded really interesting and I wanted to read it. But the summary doesn't do it justice! I can't even begin to describe anything about this book.
In the beginning it was intriguing. I was curious about the mysterious guy, Gray, who walked through life in a daze. Hiding underneath his hoodie, listening to his music; and Dylan, the weird college courtyard girl who always showed up in the courtyard, taking pictures of anything and everything she could.
In the middle I was happy. The feelings of first love, and getting to know each other. I was seeing everything they were. I was experiencing love for the first time, all over again. All those memories of my first love coming back to me. And all the memories of my husband and I's new love blossoming.
Towards the end, I was heartbroken. I felt every knife stabbing me in the heart, over and over again, alongside Gray.
This book wasn't just about love, though, it was about loss and reminding yourself that you shouldn't stop living your life just because you lose someone close to you. They wouldn't want you to put your life on hold because you can't figure out how to live without them. It reminds you that fate works in mysterious ways, sometimes it throws people into your life to teach you lessons and remind you thinks and make you live again. Even if it's just for a short while, or even forever.
The characters in this book, Gray and Dylan, were so, so very real to me. Even though it took me a while to read this because I was limited on reading time, I was sucked into their world every time I started reading. I couldn't get enough. When I wasn't reading, I couldn't stop thinking about all the things Gray and Dylan had done and all the things they said. They really made me think about EVERYTHING. Dylan has me looking at life in a new way. This is one of those books that kind of change you a little bit while reading it; in a good way.
My family and I lost my Uncle Tim at the end of May. It's been hard because I was close to him, but I remind myself every day that he's in a much better place. I lost a little part of myself along with him. I feel the same way, but at the same time I'm different. Not sure if that makes sense. But reading this book, and reading about Gray's loss has really kind of helped me let my Uncle go. To smile up at the sky and thank the lord for taking him and ending his suffering. It's reminded me to live my life and to be happy.
I'm going to stop rambling now. But overall, I really think everything should read this book. It's short, has everything a good contemporary should have. First love, finding yourself, no hateful break ups. But pure first love, that you just have to let go because of bad timing, but you find each other later on. Ugh, I really can't explain this book. Everything is so...wrong when I read back over this review. If you're into contemporary, please read it. You won't regret it. You get to see both sides of the story, Gray's and Dylan's.
Side-note: I just want to let you know that this book was very personal for the author to write. It's based off her own experiences, things she would of liked to happen, and experiences of some of her friends. Also, the hardcover edition has THREE playlists! One for Gray, one for Dylan, and one to Dylan, from Gray.