Past, Present & Future Reading Pile is a feature I do on my blog every Sunday to keep track of the books I read the week before, the book I'm currently reading, and the books I'm hoping to read in the upcoming week.
Heist Society, by Ally Carter
(Heist Society, #1)
Publisher:
Hyperion
Release Date: February 9, 2010
When Katarina Bishop was three, her parents took her on a trip to the Louvre…to case it. For her seventh birthday, Katarina and her Uncle Eddie traveled to Austria…to steal the crown jewels. When Kat turned fifteen, she planned a con of her own—scamming her way into the best boarding school in the country, determined to leave the family business behind. Unfortunately, leaving "the life" for a normal life proves harder than she'd expected.




Soon, Kat's friend and former co-conspirator, Hale, appears out of nowhere to bring Kat back into the world she tried so hard to escape. But he has a good reason: a powerful mobster has been robbed of his priceless art collection and wants to retrieve it. Only a master thief could have pulled this job, and Kat's father isn't just on the suspect list, he is the list. Caught between Interpol and a far more deadly enemy, Kat's dad needs her help.




For Kat, there is only one solution: track down the paintings and steal them back. So what if it's a spectacularly impossible job? She's got two weeks, a teenage crew, and hopefully just enough talent to pull off the biggest heist in her family's history--and, with any luck, steal her life back along the way.
This was a really fun book to read! I can't wait to read the sequel. I had to hurry and finish this because it was due today! Ha! I will definitely have to get my own copy of this so I can re-read it in the future. My review of this will be posted tomorrow!
Anna Dressed in Blood
, by
Kendare Blake
(
Anna
, #1)
Publisher:
Orchard Books
Release Date:
July 5, 2012 (UK)
Just your average boy-meets-girl, girl-kills-people story...


Cas Lowood has inherited an unusual vocation: He kills the dead.




So did his father before him, until his gruesome murder by a ghost he sought to kill. Now, armed with his father's mysterious and deadly athame, Cas travels the country with his kitchen-witch mother and their spirit-sniffing cat. Together they follow legends and local lore, trying to keep up with the murderous dead—keeping pesky things like the future and friends at bay.




When they arrive in a new town in search of a ghost the locals call Anna Dressed in Blood, Cas doesn't expect anything outside of the ordinary: move, hunt, kill. What he finds instead is a girl entangled in curses and rage, a ghost like he's never faced before. She still wears the dress she wore on the day of her brutal murder in 1958: once white, but now stained red and dripping blood. Since her death, Anna has killed any and every person who has dared to step into the deserted Victorian she used to call home.




And she, for whatever reason, spares his life.
This took me a complete week to read because it was creepy and I didn't read it much at night, and then I had a library book due so it kind of hit the back burner, but it was SO good! Can't wait to read the sequel! My review for this will be up on
Friday, July 6th!
Total: 2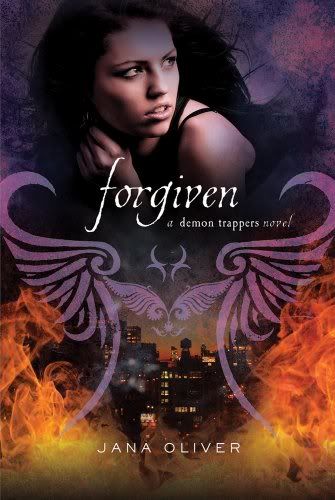 Release Date: March 27, 2012
The days are growing darker for 17-year-old demon trapper Riley Blackthorne. With her father's reanimated body back safely, Beck barely speaking to her because of a certain hunky Fallen angel, and a freshly-made deal with Lucifer, she has enough on her hands to last a normal teenage lifetime. Though she bargained with Heaven to save his life, her ex-boyfriend Simon has told the Vatican's Demon Hunters that she's working with Hell. So now she's in hiding, at the top of everyone's most-wanted list.




But it's becoming clear that this is bigger than Riley, and rapidly getting out of control: something sinister is happening in Atlanta… or some

one

. The demons are working together for the first time ever and refusing to die, putting civilians in harm's way. Riley thinks she might know who's behind it all, but who's going to believe her? Caught between her bargain with Heaven and her promise to Lucifer, Riley fears the final war is coming – and it may be closer than anyone thinks…
I'm definitely going to start this one tonight before going to bed. I adore this series and I've been dying to read this one. I've been saving it. Ha! But now that I know a fourth book is coming out, when this was supposed to be the last one, I'm going to dive into it! Finally got to it in my reading pile as well. Yay! On another note, I finally got my husband to start on the series as well! He's currently reading the first book in the series. =D If you haven't this series yet, you should definitely give it a try. It's captivating and unique!
Looking for Alaska, by John Green
Publisher:
Puffin
Release Date: December 28, 2006
Miles Halter is fascinated by famous last words and tired of his safe life at home. He leaves for boarding school to seek what the dying poet Francois Rabelais called the "Great Perhaps." Much awaits Miles at Culver Creek, including Alaska Young. Clever, funny, screwed-up, and dead sexy, Alaska will pull Miles into her labyrinth and catapult him into the Great Perhaps.
This is up next on my list after Forgiven! I'm so excited to FINALLY be reading a John Green book. He's hilarious and I love all of his and Hank's videos, but I still haven't read any of his books. I'm starting with his first book and I'm going to try my best to read in order by release date. A lot easier! =D
Note: You don't have to read them in order by release date, but I sometimes do this with authors I haven't read yet who have multiple books out, easier to keep in track with what I've read and haven't read by them. =D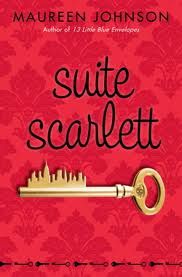 Suite Scarlett, by Maureen Johnson
(Scarlett, #1)
Publisher:
Scholastic Inc.
Release Date: May 1, 2008
Scarlett Martin has grown up in a most unusual way. Her family owns the Hopewell, a small Art Deco hotel in the heart of New York City. When each of the Martins turns fifteen, they are expected to take over the care of a suite. For Scarlett's fifteenth birthday, she gets both a room called the Empire Suite and a permanent guest named Mrs. Amberson. Scarlett doesn't quite know what to make of this C-list starlet and world traveler.




And when she meets Eric, an astonishingly gorgeous actor who has just moved to the city, her summer takes a second unexpected turn.




Before the summer is over, Scarlett will have to survive a whirlwind of thievery and romantic missteps. But in the city where anything can happen, she just might be able to pull it off.
I've had this on my shelf for a LONG time and I've been dying to read it. I've only read a couple of books by Maureen, but I loved all of them. =D I've heard great reviews on this one, so I'm pretty sure I'll love it or at least enjoy it a lot.
What did you read the last week of June? What is your first book for July? What are you planning on reading next? By the way, if you haven't joined already there is a 7-day Read-a-Thon going on
here
. It goes on from July 1st to July 7th. Also you can join the Goodreads club
here
, we have a Read-a-Thon every month! The Jumpstart read-a-thon from the 1st to 7th of each month and then another 3-day weekend one towards the end of the month. =D So if you can, you should join one! Or both!