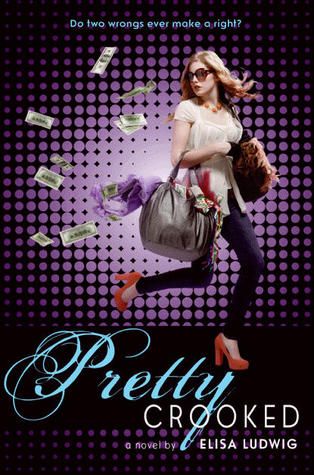 Series:
Pretty Crooked
, #1
Publisher:
Katherine Tegen
Release Date:
March 23, 2012
Hardcover:
368 pages
Genre:
Young Adult - Contemporary
Read it in:
13 days
Source:
Library
Challenge:
Debut Author
,
YA Contemporary
Rating:
★
★
★
★

Willa's secret plan seems all too simple: take from the rich kids at Valley Prep and give to the poor ones.




Yet Willa's turn as Robin Hood at her ultra-exclusive high school is anything but. Bilking her "friends"-known to everyone as the Glitterati-without them suspecting a thing, is far from easy. Learning how to pick pockets and break into lockers is as difficult as she'd thought it'd be. Delivering care packages to the scholarship girls, who are ostracized just for being from the "wrong" side of town, is way more fun than she'd expected.




The complication Willa didn't expect, though, is Aidan Murphy, Valley Prep's most notorious (and gorgeous) ace-degenerate. His mere existence is distracting Willa from what matters most to her-evening the social playing field between the have and have-nots. There's no time for crushes and flirting with boys, especially conceited and obnoxious trust-funders like Aidan.




But when the cops start investigating the string of burglaries at Valley Prep and the Glitterati begin to seek revenge, could he wind up being the person that Willa trusts most?
When I first read the summary for this 2012 debut, I knew it was going to be an enjoyable read. It's just one of those books you know right of the bat is going to be fun. And it was. It took me a while to read it, nearly two weeks, but that was because I was in a rut. I just didn't want to read at all, but once I did I'd get through some pages pretty fast because it was funny at times and pretty snarky.
Willa was a great character, she lost her way a little bit toward the middle, but fixed it by helping those who didn't have much money. There is your classic mean girls in this book, the "Glitterati", they make it hell for those who are on scholarships and don't have the means to dress up to their standards. Willa thought there was something that needed to be done about that. So she turns into a modern day Robin Hood.
With the help of a new friend, she learns how to pick pocket and break into lockers and cars and eventually houses and steal things from those who have enough money to buy a million more of the things she stole. When she was on a "job" it really made my heart beat. My heart was pounding so hard thinking she was about to get caught. And then I'd exhale my held breath in relief.
Other than Willa, my other favorite characters were Cherise, Tre, and Aidan. Especially Aidan, he was so funny and all of his scenes made me smile. He's pretty different than the other rich kids. I can't decide who I want Willa to be with, though. I really like Aidan and she does too, but theres parts of me that see Tre and I'm like, "Noo Willa!". Maybe we'll see in the next book what will happen.
Overall, this is just an overall enjoyable book. The writing flowed well and I'd fly through pages when I was reading. This is definitely a debut to read this year! And a new author to add to my watch list. If you like Robin Hood and fashion, you should definitely give this book a try!
Author Info:
Website
|
Twitter
|
Facebook
Buy:
Amazon
|
The Book Depository
Add it:
Goodreads
|
Shelfari
The sequel, Pretty Sly, will be released on March 12th, 2013.