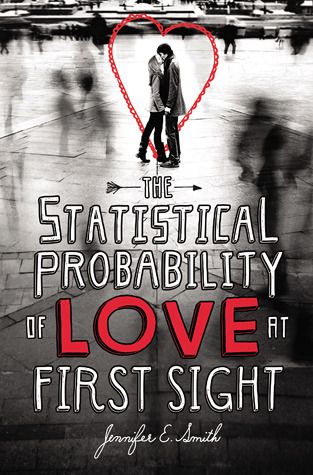 Publisher:
Poppy
Release Date:
January 2, 2012
Hardcover:
236 pages
Genre:
Young Adult - Contemporary Romance
Read it in:
1 day
Source:
Library
Challenge:
YA Contemporary
Rating:
★
★
★
★
★


"Who would have guessed that four minutes could change everything?"

Today should be one of the worst days of seventeen-year-old Hadley Sullivan's life. Having missed her flight, she's stuck at JFK airport and late to her father's second wedding, which is taking place in London and involves a soon-to-be stepmother Hadley's never even met. Then she meets the perfect boy in the airport's cramped waiting area. His name is Oliver, he's British, and he's sitting in her row.

A long night on the plane passes in the blink of an eye, and Hadley and Oliver lose track of each other in the airport chaos upon arrival. Can fate intervene to bring them together once more?

Quirks of timing play out in this romantic and cinematic novel about family connections, second chances, and first loves. Set over a twenty-four-hour-period, Hadley and Oliver's story will make you believe that true love finds you when you're least expecting it.
Before starting this book, I had a lot of trouble getting into a book and finishing it. I think I started about five books and never finished them. I was in a serious reading slump. But as soon as I saw this at the library, I grabbed it and new I'd be reading it when I got home. I started it, fell in love, and finished it. And voila, I'm nearly done with another book now!
I'd heard a lot of great things about this book for months and I'd been dying to read it. I'm glad I was FINALLY able to. It's short, but so much happens! It's definitely a VERY enjoyable quick read. If you get into a reading rut, pick up this contemporary and it will most likely snap you out of it.
This book takes place within a span of 24 hours. Girl misses plane, has to wait for another flight, meets boy. They stay up nearly the whole LONG plane ride and talk. They start falling for each other. VIOLA! =D Yes, most of the time I hate insta-love, but this wasn't the case. Yes, they start falling for each other very quickly. But you'll just have to read it to understand how amazing this "love at first sight" is. It works. It's VERY romantic. They talk, have REAL conversations. I guess there is something about knowing that you will most likely never see a person again so you think it's fine to let them in. Something comforting sometimes about it, if that makes sense.
Hadley and Oliver work so well together, I loved their scenes together. They were so different at times, but at the same time it was like they were the same person. They got each other. When I first read the summary for this book, I admit, I though it sounded "fluffy and cute". It is cute, and fun, but also there were a lot of moments that were serious and sad.
Overall, there isn't much I can really say about this book. When I think about it, I smile. Everything was great, I don't think I can really complain about it, other than the fact that I want MORE. Though it worked SO well with how short it was. If you're looking for a great quick read to get you out of your slump, read it. Or if you just want to, READ IT. You won't regret it. =) I will definitely be buying and re-reading this in the future.
Buy:
Amazon
|
The Book Depository
Add it:
Goodreads
|
Shelfari