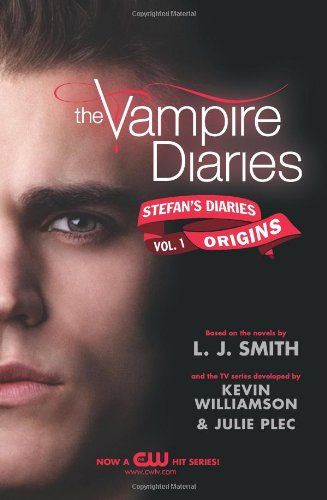 Series:
Vampire Diaries: Stefan's Diaries
, #1
Publisher:
HarperTeen
|
Hodder's Children
Release Date:
November 2, 2010
Paperback:
256 pages
Genre:
Young Adult - Paranormal Romance
Read it in:
6 days
Source:
Hodder's Children
Challenges:
ABC Reading
Rating:
★
★
★

Set during the Civil War, against a backdrop of grand estates, unimaginable riches, and deadly secrets, three teenagers in Mystic Falls, Virginia enter a torrid love triangle that will span eternity.




Brothers Stefan and Damon Salvatore are inseparable until they meet Katherine, a stunning, mysterious woman who turns their world upside down. Siblings turned rivals, the Salvatores compete for Katherine's affection, only to discover that her sumptuous silk dresses and glittering gems hide a terrible secret: Katherine is a vampire. And she is intent on turning them into vampires so they can live together-forever.




Based on the popular CW TV show inspired by the bestselling novels, Stefan's Diaries reveals the truth about what really happened between Stefan, Damon, and Katherine--and how the Vampire Diaries love triangle began.
I don't really know what to say about this book or where to begin. I love the original Vampire Diaries series, and I love the show. But the books lately have just gotten...wow. I read the four original Vampire Diaries books and then got excited a couple of years later when a fifth was coming out. But then when it came out and I attempted to read it, I couldn't finish it! It was just really weird.
And now there's a ghostwriter involved and the newer books aren't even written by L.J. and it's sad and horrible. And then these books come out and they aren't involved with the original books. These are based off the SHOW. Which I was kind of curious about because I love the show and want to know more about Stefan and Damon.
Also, by the way, does anyone know who actually writes these books?! It just says based off the novels by L.J. Smith and off the show written by Kevin Williamson and Julie Plec. But who wrote THIS book??
Anyway, as much as I loved learning more about Stefan, Damon and Katherine and it was fun to read through Stefan's eyes, it wasn't great. I loved reading and being able to see some of the scenes because they were in the show, and knowing more about their history and what happened before they were turned, but something just wasn't right for me. It took me a lot longer than necessary to read this and I just wasn't in it a hundred percent.
Overall, it was enjoyable, but I could only read so much of it at one time. I had to keep putting it down. I love hearing more history than is seen in the show, but something just isn't right. Hard to explain. My husband says the next book is better, hopefully it will be. I'll read it soon, but I'm not absolutely DYING to read it.
Buy:
Amazon
|
The Book Depository
Add it:
Goodreads
|
Shelfari
The second book in this series is called Bloodlust. It was released on January 4, 2011.