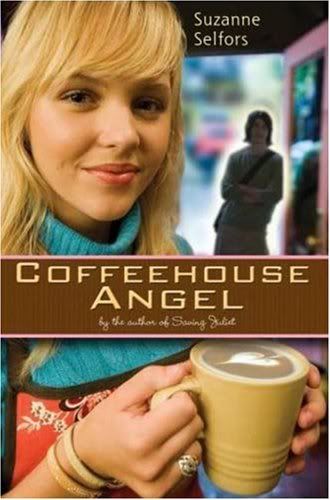 Coffeehouse Angel by Suzanne Selfors


Series: --
Next book in series: none
Publisher: Walker Books for Young Readers
Release Date: July 21, 2009
ARC: 288 Pages
Age Group: Young Adult
Buy:
Amazon
Add to Goodreads
Source: Won from Contest
Challenge: none
Rating:

3

/5

When Katrina sees a homeless guy sleeping in the alley behind her grandmother's coffee shop, she leaves him a cup of coffee, a bag of chocolate-covered coffee beans, and some pastries to tide him over, never expecting this random act of kindness to turn her life-upside down.

The adorable vagrant, Malcolm, is actually a real guardian angel on a break between missions, and now he won't leave until he can reward Katrina's selflessness by fullfilling her deepest desire.

Fame and fortune seem like the obvious requests, but after two botched wishes, Malcolm knows Katrina is hiding something from him. But how can she tell him the truth, when her heart's desire has become Malcolm himself?
First Paragraph: The first time I saw him, he was lying in the alley behind my grandmother's coffeehouse. I figured he was some sort of bum.

Coffeehouse Angel was a pretty good read, but didn't make it to my favorite's list. Something really bugged me about this novel, and I can't really figure out what it was. It took me a little while to get into it, but by the end I was reading through it pretty fast and when the last chapter came, I wanted to know more.

Even though Katrina was the main character, she wasn't my favorite. She just didn't feel very developed as a character to me. I liked her family and friends, though. I really liked how Elizabeth was unique and seemed to dress kind of funky and was artistic.

Mr. Darling made me really mad! He frustrated me so bad with all the things he did. He was just so... evil! Makes me mad just thinking about him again. He seemed so heartless. His daughter wasn't as bad as Katrina thought, though.

The writing itself was pretty good. It really makes me want to read more from Selfors.

I love the fictional small town she created, based off the small town of Poulsobo, Washington. It really has me interested in Scandinavian customs. She has a pretty good bit of Scandinavian customs in the book, and you can tell she put a lot of research into it.

Overall, it was a pretty fast, cute, coming of age read. I really liked the cover, too. I love the heart at the top of the coffee. And boy do I love coffee in general!
I recommend this to anyone who would like a fast read.
Cover: I like the ARC's cover, but I think I like the printed copy's cover better. It's a lot more simpler and the blue is very pretty. Book design is by Nicole Gastonguay.