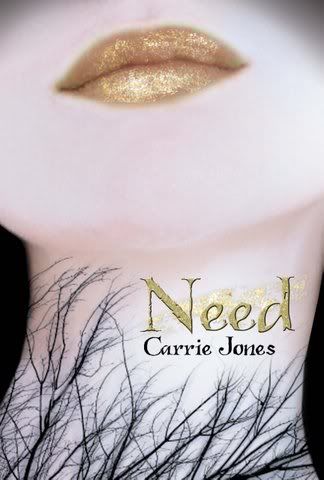 Need
by Carrie Jones
Need series, Book #1
Next book in series:
Captivate
Publisher:
Bloomsbury Publishing
Release Date:
December 8, 2009
Hardcover:
306 Pages
Age Group:
Young Adult (12+)
Author Website
Buy:
Amazon
Rating:

Zara collects phobias the way other girls collect Facebook friends. Little wonder, since life's been pretty rough so far. Her father left, her stepfather just died, and her mother's pretty much checked out. Now Zara's living with her grandmother in sleepy, cold Maine so that she stays "safe." Zara doesn't think she's in danger; she thinks her mother can't deal.
Wrong. Turns out that guy she sees everywhere, the one leaving trails of gold glitter, isn't a figment of her imagination. He's a pixie—and not the cute, lovable kind with wings. He's the kind who has dreadful, uncontrollable needs. And he's trailing Zara.
I think I may be one of the last ones to read this book, ha ha. But it's not because I didn't want to, it's because I've owned it for a while, but just never gotten around to reading it. Now I've finally read it and I absolutely loved it! Jones created an amazing world, that is basically like our own, but add in some Pixies and shifters, oh my!
The Pixies aren't the cute fairy-like creatures
some
people think them to be; they are evil! They have a need that clouds every human instinct some may have.
I was hooked from the very first chapter, though it kind of irritated me with how she still described her father as being her "step-dad" even though she was really close to him and he was the only father she'd known all her life. I know it needed to be classified that he was her step-father in the beginning, but it doesn't need to be said all the time. Yeah, he wasn't her biological-blood father, but he was still her father in all the ways that counted.
Made me really think about my relationship with my step-dad. We haven't always had the greatest relationship, but he's my father.
I really liked Jones' writing tone, made everything easy to read and kept you intrigued the whole way through. Even though I kind of guessed at some things from the very beginning, she still had me going "Whoa! Really?" at a lot of things. Stuff that she kept a secret until it happened, somehow. Sneaky, sneaky! ;)
Zara was a pretty decent main character. I sometimes find myself being seriously annoyed by the protagonist, I guess it's because you're with them the whole time and get to know them more than most characters. Zara had her flaws, but who doesn't? They made her more real and she was a true, genuine, nice girl. Which I loved.
And Nick. Ahh, cuteee Nick. Another YA male to fall in love with. He's so sweet with the right amount of attitude. Loved it. :) And Ian, ugh, Ian. He creeped me out from the start! Don't want to go into details, though, because I don't want to spoil anything. But I know all of you who have read
Need
understand what I'm talking about. Right?
Overall, this was a very addicting, fun, addicting, written well, addicting, unique, did I say addicting? book. I would recommend this to any and every YA fantasy loving bookworm out there. :)
Sorry this wasn't the best review, but I just honestly didn't know much of what to say about this book. Do you ever get those books that you love, but can't really explain it very well? If so, this was one of them.