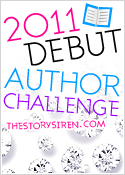 To find out more information on the Debut Author Challenge, or to sign up, click
here
!
I made a post about the 2011 Debut Author Challenge a little while ago after I signed up to join the challenge. I made a list of books that I'd like to read for the challenge, but I knew that the list would probably change. I just looked through all the debut books releasing this year that I know about and created a new list. Most of the books are the same, but I changed some up for some later in the year.
Here is my new list that is going onto the challenge page:
I'll be adding this to the challenge page, but I may pick other books to read along the way instead of this list in case I can't get my hands on some of the ones above. But hopefully I will be able to because all of these books sound completely amazing!