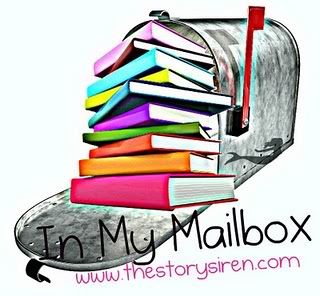 To find out the official information for this meme, click
here
!
This week was a great week from the library. :) I still have a few checked out from the last few weeks, but I renewed them and got seven more books. Crazy, huh?!
Books from the library:
Release Date: March 2, 2010
Interests:
I've heard great things about this book and have wanted to read it for a while now. Since the second book,
Demonglass
, is set to be released March 1st this year, I thought now would be the perfect time to read it so when
Demonglass
comes out, I can catch up. :) By the way, isn't that cover pretty?!
Sophie Mercer thought she was a witch.

That was the whole reason she was sent to Hex Hall, a reform school for delinquent Prodigium (aka witches, shapeshifters, and fairies). But that was before she discovered the family secret, and that her hot crush, Archer Cross, is an agent for The Eye, a group bent on wiping Prodigium off the face of the earth.

Turns out, Sophie's a demon, one of only two in the world—the other being her father. What's worse, she has powers that threaten the lives of everyone she loves. Which is precisely why Sophie decides she must go to London for the Removal, a dangerous procedure that will destroy her powers.

But once Sophie arrives she makes a shocking discovery. Her new friends? They're demons too. Meaning someone is raising them in secret with creepy plans to use their powers, and probably not for good. Meanwhile, The Eye is set on hunting Sophie down, and they're using Archer to do it. But it's not like she has feelings for him anymore. Does she?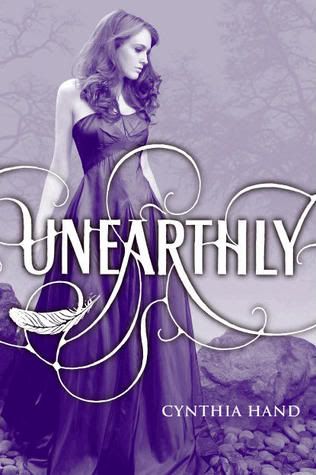 Release Date: January 4, 2011
Interests: Besides the beautiful cover? And the fact that it's a debut author?! I've heard great things so far, I actually don't think I've heard anything bad about this! :) The summary sounds amazing, so I can't wait to dive into this.
In the beginning, there's a boy standing in the trees . . . .




Clara Gardner has recently learned that she's part angel. Having angel blood run through her veins not only makes her smarter, stronger, and faster than humans (a word, she realizes, that no longer applies to her), but it means she has a purpose, something she was put on this earth to do. Figuring out what that is, though, isn't easy.

Her visions of a raging forest fire and an alluring stranger lead her to a new school in a new town. When she meets Christian, who turns out to be the boy of her dreams (literally), everything seems to fall into place—and out of place at the same time. Because there's another guy, Tucker, who appeals to Clara's less angelic side.

As Clara tries to find her way in a world she no longer understands, she encounters unseen dangers and choices she never thought she'd have to make—between honesty and deceit, love and duty, good and evil. When the fire from her vision finally ignites, will Clara be ready to face her destiny?

Unearthly is a moving tale of love and fate, and the struggle between following the rules and following your heart.
Release Date: March 9, 2010
Interest: I've read the first two books in the series and loved them. I've been dying to read the third installment, but haven't gotten around to it. When I saw it was at the library, I couldn't resist! The last installment, Afterlife, is coming out this year on March 8th.
Bestselling author Claudia Gray's Evernight series continues. In Hourglass, Bianca and Lucas have found a way to be together. But it means lying to the people who care about them the most.





After escaping from Evernight Academy, the vampire boarding school, Bianca and Lucas seek refuge with Black Cross, the elite group of vampire hunters led by Lucas's stepfather. When Bianca's close friend—the vampire Balthazar—is captured by Black Cross, Bianca knows she has to do whatever it takes to save him. But at what cost?





Hourglass, the third book in this gripping vampire series by the author of the New York Times bestseller Stargazer, has all the romance, suspense, and page-turning drama that have made Claudia Gray's books runaway successes.
Release date: June 12, 2007
Interest: I have been wanting to read this series for a long time, but have never actually picked it up and read it. I've heard amazing things and I know this is among a lot of young adults favorite series. I saw it at the library and had to pick it up. I'm really kind of late in reading this, as the last installment, Darkest Mercy, comes out on February 22 this year! (In 2 days, actually!)But at least I won't have to wait to read the next book after I finish each installment in the series. Also, the covers for this series are stunning!
All teenagers have problems, but few of them can match those of Aislinn, who has the power to see faeries. Quite understandably, she wishes that she could share her friends' obliviousness and tries hard to avoid these invisible intruders. But one faery in particular refuses to leave her alone. Keenan the Summer King is convinced beyond all reasoning that Aislinn is the queen he has been seeking for nine centuries. What's a 21st-century girl to do when she's stalked by a suitor nobody else can see? A debut fantasy romance for the ages; superlative summer read.
Release Date: February 1, 2011
Interest: I haven't read anything by Oliver yet, but I have Before I Fall on my to-be read/wish list on Goodreads. I've heard great things about it and also of Delirium. I've been trying to read more dystopian-type novels since finishing the first installment of The Hunger Games. The sequel to Delirium, Pandemonium, is set to be released in 2012.
Before scientists found the cure, people thought love was a good thing. They didn't understand that once love -- the deliria -- blooms in your blood, there is no escaping its hold. Things are different now. Scientists are able to eradicate love, and the governments demands that all citizens receive the cure upon turning eighteen. Lena Holoway has always looked forward to the day when she'll be cured. A life without love is a life without pain: safe, measured, predictable, and happy.





But with ninety-five days left until her treatment, Lena does the unthinkable: She falls in love.


Release Date: June 29, 2010
Interest: Gorgeous cover! I've heard this book is really good, and it sounds really good as well. The sequel, Queen of the Dead, will be coming out this year on June 7th! So I need to hurry and read this so I'll be ready for the sequel.
Alona Dare–Senior in high school, co-captain of the cheerleading squad, Homecoming Queen three years in a row, voted most likely to marry a movie star… and newly dead.





I'm the girl you hated in high school. Is it my fault I was born with it all-good looks, silky blond hair, a hot bod, and a keen sense of what everyone else should not be wearing? But my life isn't perfect, especially since I died. Run over by a bus of band geeks—is there anything more humiliating? As it turns out, yes—watching your boyfriend and friends move on with life, only days after your funeral. And you wouldn't believe what they're saying about me now that they think I can't hear them. To top it off, I'm starting to disappear, flickering in and out of existence. I don't know where I go when I'm gone, but it's not good. Where is that freaking white light already?





Will Killian–Senior in high school, outcast, dubbed "Will Kill" by the popular crowd for the unearthly aura around him, voted most likely to rob a bank…and a ghost-talker.





I can see, hear, and touch the dead. Unfortunately, they can also see, hear and touch me. Yeah, because surviving high school isn't hard enough already. I've done my best to hide my "gift." After all, my dad, who shared my ability, killed himself because of it when I was fifteen. But lately, pretending to be normal has gotten a lot harder. A new ghost—an anonymous, seething cloud of negative energy with the capacity to throw me around—is pursuing me with a vengeance. My mom, who knows nothing about what I can do, is worrying about the increase in odd incidents, my shrink is tossing around terms like "temporary confinement for psychiatric evaluation," and my principal, who thinks I'm a disruption and a faker, is searching for every way possible to get rid of me. How many weeks until graduation?



Release Date: September 22, 2009
Interest: First off, I'm going to say that Livingston got VERY lucky with her cover artist. The Wondrous Strange series has beautiful covers! I have heard great things about this series, they sound amazing! I've been wanting to read them since the first book came out, but haven't had a chance to. (I know, that's my excuse for everything. -_-)
17 year-old Kelley Winslow doesn't believe in Faeries. Not unless they're the kind that you find in a theatre, spouting Shakespeare—the kind that Kelley so desperately wishes she could be: onstage, under lights, with a pair of sparkly wings strapped to her shoulders. But as the understudy in a two-bit, hopelessly off-off-Broadway production of A Midsummer Night's Dream, wishing is probably the closest she's going to get to becoming a Faerie Queen. At least, that's what she thinks... In this fun, urban fantasy, Kelley's off-stage life suddenly becomes as complicated as one of Shakespeare's plot twists when a nighttime trip to Central Park holds more than meets the mortal eye.
So, what did you get this week?