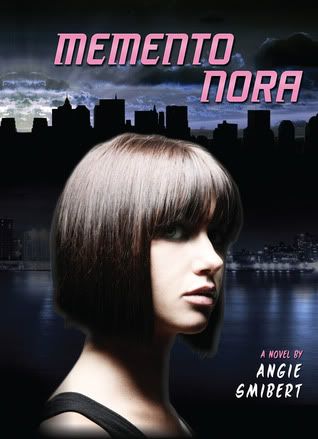 Memento Nora by Angie Smibert
Series:
Memento Nora, book #1
Next book in series:
The Forgetting Curve
Publisher:
Marshall Cavendish Children's
Release Date: April 1, 2011
Hardcover: 184 Pages
Age Group: Young Adult
Buy:
Amazon
Add to Goodreads
Source: Library
Challenge: Debut Author, Support Your Local Library
Overall:

4

/5
Summary
Nora, the popular girl and happy consumer, witnesses a horrific bombing on a shopping trip with her mother. In Nora's near-future world, terrorism is so commonplace that she can pop one little white pill to forget and go on like nothing ever happened. However, when Nora makes her first trip to a Therapeutic Forgetting Clinic, she learns what her mother, a frequent forgetter, has been frequently forgetting. Nora secretly spits out the pill and holds on to her memories. The memory of the bombing as well as her mother's secret and her budding awareness of the world outside her little clique make it increasingly difficult for Nora to cope. She turns to two new friends, each with their own reasons to remember, and together they share their experiences with their classmates through an underground comic. They soon learn, though, they can't get away with remembering.
First Paragraph
I'm about to forget everything I'm going to tell you. So I'm only going to mention the parts that matter. To you, at least. The rest I'm going to keep to myself, for my self. For that old Nora James. The obedient daughter. The popular girl. The oblivious consumer. The one who really owns this cute little charm bracelet with the silver purse dangling from it. The one you want to keep around.
My Thoughts
Here is another really good dystopian debut novel. It is told in three point-of-views; Nora, Micah, and Winter. All have their own hopes to change something through a comic strip they decide to distribute. It's mostly Nora and Micah's idea because Micah draws the comic strip and Nora adds the story to it, based off their own stories with the TFC (To Forget Cares.) and the little white pill that they take when they go to the TFC to erase the memories of the traumatic events they may have happened to them. And some go to the TFC to take the pill just to simply forget.
They name their comic strip
Memento
, which is a strong word to them in this new futuristic world. To them, memento doesn't mean a small object kept as a reminder of a person or an event, it's to remember the past. To remember EVERYTHING that the government would want you to forget.
Don't let the compact size of the actual book, or the amount of pages fool you. This may be a short read, but a lot happens throughout its pages. A lot that you won't soon forget.
The writing was really good and the characters were believable. I really liked Micah. Micah and Nora worked well together. I liked each of Nora, Micah and Winter's stories.
Overall, this was simply a good read. It was a fun and fast read. I can't wait to see what happens next! The ending DEFINITELY has be anxiously awaiting the next installment.
Cover Love
The cover is gorgeous! I love the backdrop and the girl's hair on the cover. It does kind of look futuristic. =) I really like the font and the color of the title as well.
Book Trailer