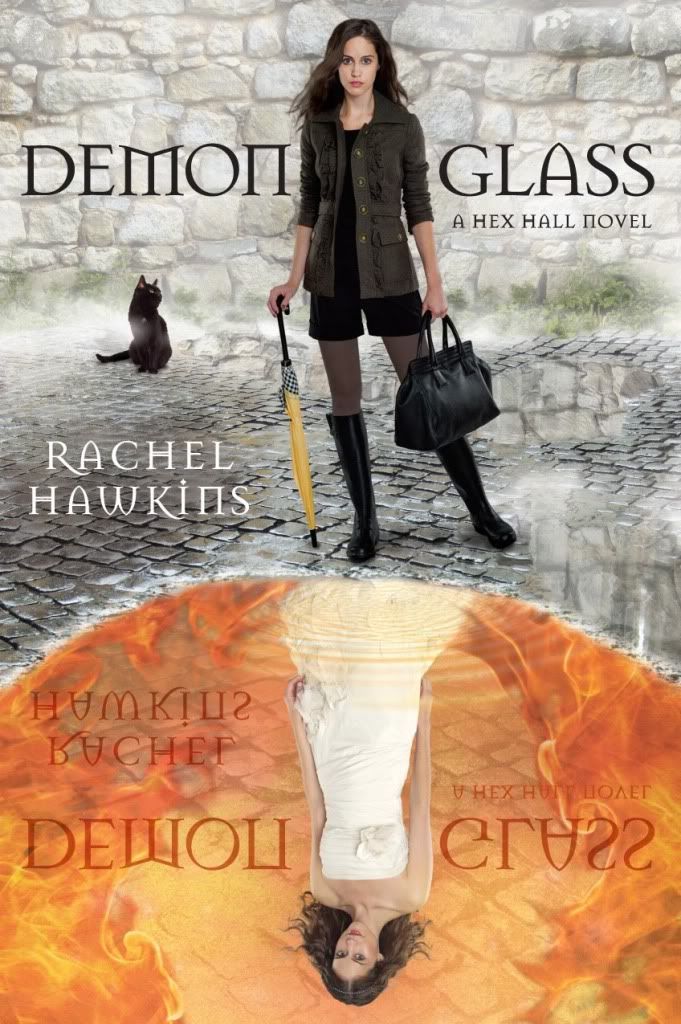 Demonglass

, by Rachel Hawkins
(Hex Hall, #2)
Publisher:
Hyperion
Release Date: March 1, 2011
Hardcover: 359 pages
Age Group: Young Adult
Buy:
Amazon
Source: Library
Challenge: Support Your Local Library, Book Blogger Recommendation, 350 Page
Rating:

Sophie Mercer thought she was a witch.




That was the whole reason she was sent to Hex Hall, a reform school for delinquent Prodigium (aka witches, shapeshifters, and fairies). But that was before she discovered the family secret, and that her hot crush, Archer Cross, is an agent for The Eye, a group bent on wiping Prodigium off the face of the earth.




Turns out, Sophie's a demon, one of only two in the world—the other being her father. What's worse, she has powers that threaten the lives of everyone she loves. Which is precisely why Sophie decides she must go to London for the Removal, a dangerous procedure that will destroy her powers.




But once Sophie arrives she makes a shocking discovery. Her new friends? They're demons too. Meaning someone is raising them in secret with creepy plans to use their powers, and probably not for good. Meanwhile, The Eye is set on hunting Sophie down, and they're using Archer to do it. But it's not like she has feelings for him anymore. Does she?




After finishing Hex Hall back in August, I couldn't wait to finally get a hold of this one. I put it on hold at the library and was finally able to read it, and it blew me away! I wasn't sure in the beginning whether or not it would be as good as the first book, but I was wrong! I personally liked the sequel better than the first book.
You can tell Sophie has grown a lot since the first book, she's through a lot since arriving at Hecate (a.k.a Hex Hall). There was a lot more action, which I totally loved. Also, a bit of a "which side should I be on in this sort-of love triangle?" which I loved as well, believe it or not. I mean, it annoyed me a little bit at times, but other times I loved it. Though at some points I couldn't figure out which guy I was rooting for more. And after finishing, I still am not completely sure if I'm Team Archer or Team Cal.
The characters are great. I really love Sophie as the main character/protagonist. She's snarky, fun and just an overall great and real character. I also really love Jenna, I'm glad Sophie has her. She's a great character and really adds to the story. Well, actually, all the characters have something pretty interesting about them.
Overall, the writing drags you in and holds you just as the first one did. Hawkins really knows how to write. I can't see what she comes up with for the third book in the series. Also, I'm really glad you get to learn more about demons in the sequel. The only thing I really that bugged me at times was I could predict a few things would happen, though it didn't take away from the story. =)
The cover is really cool. I love how it shows kind of a mirror image. Love both book covers in this series.
The third book in the series is called Spell Bound It will be released on March 13, 2012. Here is my review of the first book Hex Hall.