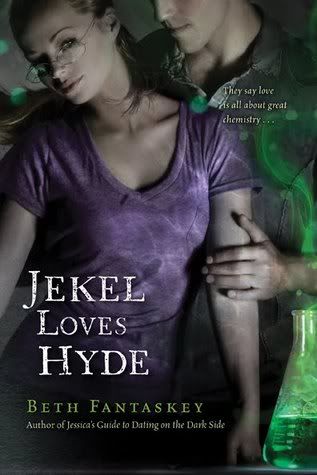 Jekel Loves Hyde, by Beth Fantaskey
Publisher:
Graphia
Release Date: May 3, 2010
ARC: 282 pages
Age Group: Young Adult
Buy:
Amazon
Source: Publisher
Challenge: none
Date Read: May 2010
Rating:

Jill Jekel has always obeyed her parents rules; especially the one about never opening the mysterious, old box in her father's office. But when her dad is murdered, and her college savings disappear, she's tempted to peek inside, as the contents might be the key to a lucrative chemistry scholarship.




To improve her odds, Jill enlists the help of gorgeous, brooding Tristen Hyde, who has his own dark secrets locked away. As the team of Jekel and Hyde, they recreate experiments based on the classic novel, hoping not only to win a prize, but to save Tristen's sanity. Maybe his life. But Jill's accidental taste of a formula unleashes her darkest nature and compels her to risk everything, even Tristen's love just for the thrill of being . . . bad.
First off, I love Beth Fantaskey. I read Jessica's Guide to Dating on the Darkside and fell in love with her writing. I'm sorry to say this, but I couldn't get into this one all the way. I mean, it was good, but it wasn't one of those books that you don't want to put down. Which I was highly disappointed at because Beth Fantaskey is very talented.

And because of that adoration for her first book, I tried so hard to get so into this book that I didn't want to put it down, but I just couldn't. I finished it, and I think I finally got into it when I read the Epilogue. I really loved the ending of the book, but just couldn't get into it any other time.

I really thought I'd love this book. And the cover is gorgeous! But the plot itself wasn't that great for me.

The story is told in with two narrators, Jill and Tristen. Tristen was pretty interesting, but Jill was just really annoying. To the point where I really wish she was real so I could just smack her and ask her what the hell is wrong with her.

The writing itself was good, though. It was really detailed and I could picture everything. Which I do honestly love. She did a great job in creating

Jekel loves Hyde

based off the classic, and making it original. That really did intrigue me and the part where they were both ancestors of either Dr. Jekyll and Mr. Hyde.

But I'm sad to say that I can't give this an A+. I feel bad for it, but I have to be honest. I'm really sorry I couldn't give this the best review. Hopefully anyone else who reads this will like it more than I did.
*Note: This is part of my 'Old Review' collection. Where I post reviews randomly that I wrote a while ago before starting this blog.