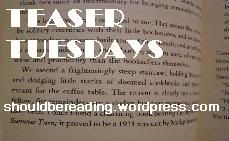 Teaser Tuesday is a Meme hosted by Mizb @ Should Be Reading. Anyone can join in, as long as they do the following:
Grab your current read.

Open your book to a random page

Share two (2) "teaser" sentences from somewhere on that page.
Warning: Not everyone has read your current read, be courtesy to those who haven't and not reveal any spoilers.
Share the Title & Author so anyone can add your current read to their list if they wish to do so.
*Note: all my links go to Goodreads, the authors website, and the publishers website.
Wolfsbane
by Andrea Cremer
(Nightshade, book #2)
Publisher:
Philomel
Release Date: July 26, 2011
When Calla Tor wakes up in the lair of the Searchers, her sworn enemies, she's certain her days are numbered. But then the Searchers make her an offer—one that gives her the chance to destroy her former masters and save the pack—and the man—she left behind. Is Ren worth the price of her freedom? And will Shay stand by her side no matter what? Now in control of her own destiny, Calla must decide which battles are worth fighting and how many trials true love can endure and still survive.
Teaser: Suddenly I could hear his voice. This is only about love.