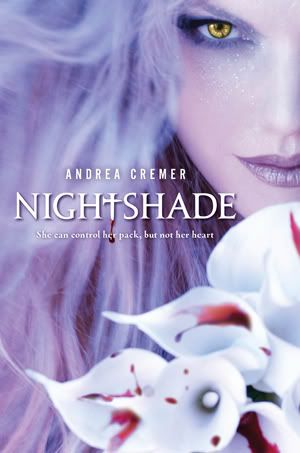 Nightshade
by
Andrea Cremer
(
Nightshade
, #1)
Publisher:
Philomel
Release Date:
October 19, 2010
Hardcover:
528 pages
Age Group:
Young Adult
Buy:
Amazon
Source:
Bought
Challenge:
A to Z
,
Off the Shelf
,
Book Blogger Recommendation
,
350 Page
Rating:

Calla Tor has always known her destiny: After graduating from the Mountain School, she'll be the mate of sexy alpha wolf Ren Laroche and fight with him, side by side, ruling their pack and guarding sacred sites for the Keepers. But when she violates her masters' laws by saving a beautiful human boy out for a hike, Calla begins to question her fate, her existence, and the very essence of the world she has known. By following her heart, she might lose everything- including her own life. Is forbidden love worth the ultimate sacrifice?
After hearing such great things about this book, I bought it last Christmas with a gift card my husband got me, and I finally got to read it. I've been dying to read it for a long time, but there just isn't enough time in the day to get through my tbr list!
I know a lot of books don't live up to their hype, but boy this one was one. It lived up to the hype and went way over it. I know some people may be getting tired of werewolves (I love werewolves!), but this is a unique take on it. Werewolves and witches. It's amazing!
What makes a great book a lot of time when I'm reading, is the characters. But this one was definitely the plot. I mean, the characters were AWESOME! But the plot? The plot was unique and intriguing and just kept throwing new and exciting things at you.
Sometimes I would think, "Oh, this is going to happen next.", but it didn't! I was left with my mouth hanging open and my eyes on overdrive trying to take in everything on the page so I could flip to the next one.
I've been looking for another book that has a strong female character. A kick-ass, strong female character. (i.e. Rose from Vampire Academy.) And I haven't really found many lately, but Calla? Calla is DEFINITELY kick ass. She cared about her pack, she put her pack in front of her own happiness. I'm not going to get into that because it would giveaway some of the story, but you'll understand once you pick this book up.
Yes, there is a love triangle in this book. But I really can't figure out which guy I want Calla to be with. They both have their qualities and both sound smokin' hot. Sometimes I like Shay more, and sometimes it's Ren.
Hopefully the next book (Which I'm currently reading! Yay! That's how great Nightshade is, I read ONE book after this book before I took on Wolfsbane.) will help me figure out which side I'm on.
Overall, pick it up. Do it. If you haven't read it already, please get a move on it. It's not your typical werewolf book. And the writing is amazing. It keeps you reading and keeps you interested and wanting more. Andrea Cremer is definitely on my author watch list now.
The cover is gorgeous. I can't figure out if I like this versions cover, or the new paperback cover better. I'm really mad, though, because once I buy Wolfsbane for my shelf, my covers aren't going to match. Anyone know where I can get a new book cover to put on my hardback? I've seen them around the blog-o-sphere.
The second book in this series is Wolfsbane. It was released on July 26, 2011.