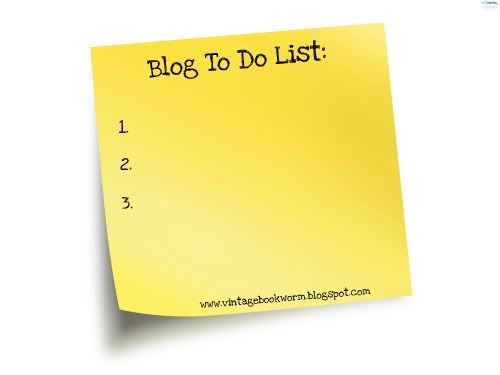 To-Do List
is a weekly meme started here at the Vintage Bookworm where bloggers can put up a list of things they would like to get done on their blog that week, and also show things they got done on the previous weeks' list. If you would like to join, just create your to-do list post and add it to the linky so others can check it out. =)
I am SO sorry I didn't post last week. I totally forgot about it. I've been working on my new manuscript and so I've kind of been neglecting the blog. Sorry! But I'm trying to create a schedule so everything isn't so hectic and I can get everything done.
Any tips on juggling everything? Kids, husband, writing, reading, blog, housework, etc. ? If you do, please let me know, I'd love to hear any suggestions! =)
I procrastinate too much. But anyway, here is my list for this week! It's kind of short. Not sure if that is a good or bad thing. Ha!
Write review for Bloodlines by Richelle Mead, schedule
Finish reading Wolfsbane by Andrea Cremer, schedule
Post Bloodlines review on Book Divas

Catch up on blogs & comment, also clean out blog list

Send out e-mails needed

Start one of secret pages
And that is all for me, for right now. Ha!