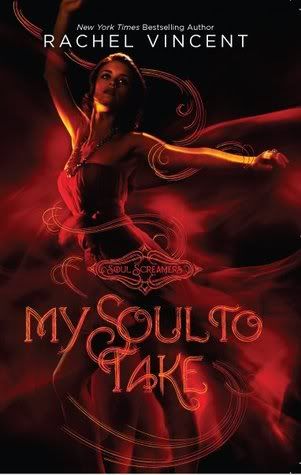 My Soul To Take
by
Rachel Vincent
(
Soul Screamers
, #1)
Publisher:
Harlequin Teen
Release Date:
July 29, 2009
ARC:
288 pages
Age Group:
Young Adul
Buy:
Amazon
Source:
Harlequin Teen
Challenge:
A to Z
,
Off the Shelf
,
Book Blogger Recommendation
Overall:

She doesn't see dead people. She senses when someone near her is about to die. And when that happens, a force beyond her control compels her to scream bloody murder. Literally.


Kaylee just wants to enjoy having caught the attention of the hottest guy in school. But a normal date is hard to come by when Nash seems to know more about her need to scream than she does. And when classmates start dropping dead for no apparent reason, only Kaylee knows who'll be next.
Oh my! This was so unique and refreshing. I can't believe I took so long to read this. Now I'm dying to read book 2! And sadly, I don't have it. So I'll have to put a hold on it at the library to get it sent to my library. I wish I could have it in my hands RIGHT NOW.
But anyway, I should of known this would be a great series. I've read the first two books in Vincent's Adult Urban Fantasy Shifter series. If you haven't read them or heard of that series yet, you should definitely look it up. They are good.
This is a great start to this series. The character's are well developed. I really liked Kaylee and Nash. Those were my two favorites characters. Wait, I can't forget Tod! I haven't decided who I like better yet, Nash or Tod. Hmm.
Kaylee seemed like a normal teenager, except for the whole knowing someone is going to die a few minutes before they do. So that was really good. I love when writer's can do that, make someone seem really normal without knowing their secret and when you do it comes as a surprise. You know what I mean?
I was hooked from the first chapter, and the writing kept me reading and reading and reading. Ha!
Overall, very, very interesting read! I was sad to see the first book end, especially without having the second. I'll definitely be trying to get my hands on the second book very, very soon. Vincen't has made it to my author's to look out for list. I'm really interested in checking out her other adult series as well.
I really like the cover for this book. But I can't figure out if I like the US cover better or the UK version better. I like how dark the US covers for this series are, but then again I like how bright the UK ones are. *sigh*
The second book in this series is My Soul To Save. It was released on December 29th, 2009.