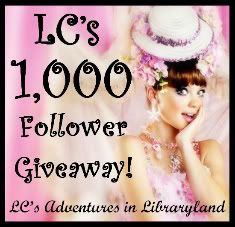 Lea from
LC's Adventures in Libraryland
is having an AWESOME giveaway. And I do mean awesome. I just entered it and she has so many awesome prize packs with equally awesome books in it that it was just so hard to figure out which pack I truly wanted. I kept changing my mind!
You really should head over to her blog and congratulate her on reaching 1,000 followers, though I am definitely sure she has more followers now. She is awesome! Also, wish her a belated happy birthday! It's always better late, than not at all. =)
There will be two winners. The first place winner will win ALL the books in the prize pack they chose. And the second place winner will win one of the books in one of the prize pack they chose.
Giveaway ends on December 1, 2011 @ 11:59pm Eastern Standard time.
Oh, AND the giveaway is
international
. It is open to any country that the
Book Depository
ships to.
Not sure if they ship to your country? Click
here
to find out!
She has ten different packs with three books in each; Faery, Fantasy, Dystopian, Contemporary, Historical Fiction, Werewolf, Vampire, Mermaid, Mythology, and Zombies.
Are you curious yet? I hope you are. If so, click
here
to learn more information and to find out which books are in those prize packs.