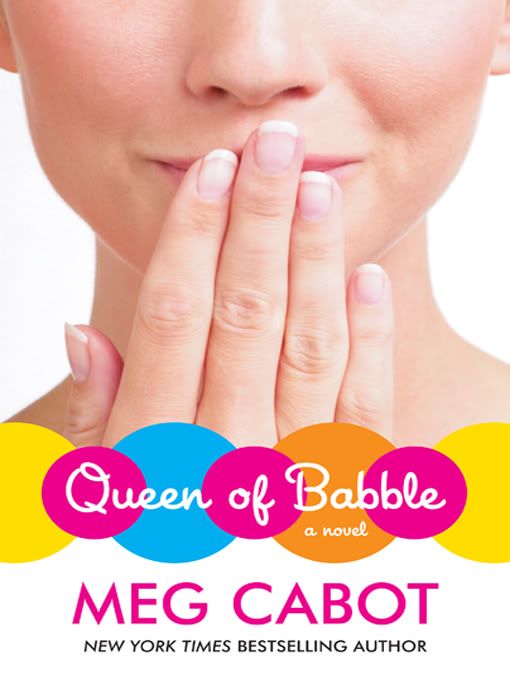 Release Date: June 23, 2006
Hardcover: 309 pages
Age Group: Adult
Buy:
Amazon
Source: library
What's an American girl with a big mouth, but an equally big heart, to do?

Lizzie Nichols has a problem, and it isn't that she doesn't have the slightest idea what she's going to do with her life, or that she's blowing what should be her down payment on a cute little Manhattan apartment on a trip to London to visit her long-distance boyfriend, Andrew. What's the point of planning for the future when she's done it again? See, Lizzie can't keep her mouth shut. And it's not just that she can't keep her own secrets, she can't keep anything to herself.
This time when she opens her big mouth, her good intentions get Andrew in major hot water. Now Lizzie's stuck in London with no boyfriend and no place to stay until the departure date written on her non-changeable airline ticket.
Fortunately, Lizzie's best friend and college roommate is spending her summer in the south of France, catering weddings in a chateau. One call and Lizzie's on a train to Paris. Who cares if she speaks only rudimentary French? One glimpse of gorgeous Chateau Mirac -- not to mention gorgeous Luke, Chateau Mirac's owner -- and she's smitten.
But while most caterers can be trusted to keep a secret, Lizzie's the exception. And no sooner has the first cork been popped than Luke hates her, the bride is in tears, and it looks like Chateau Mirac is in danger of becoming a lipo-recovery spa. As if things aren't bad enough, ex-boyfriend Andy shows up looking for "closure" (or at least a loan), threatening to ruin everything, especially Lizzie's chance at ever finding real love -- unless she can figure out a way to use that big mouth of hers to save the day.
Ah, Meg Cabot. Oh how I've missed your writing. I haven't read a Meg Cabot book in a while. I'm pretty sure since Insatiable was out. Why?! I always know that I'm going to love a Meg Cabot book, even before I know what the book is about. 'Oh, it's by Meg Cabot? Oh, okay, slide it right down please!'
I haven't read all of her books. But I do plan on it, setting aside the middle grade novels. I just don't do well with middle grade novels. Not sure why. But her books are the ones to read! You can NEVER go wrong with a Meg Cabot book. But anyway, you're here to read what I thought of THIS book. Queen of Babble.
I loved it. I need to pick up the second book as soon as possible. I didn't have very many issues with this book. It took me about a chapter or two to get into it fully, but of course her writing pulled me right in. There is just something about Meg Cabot's style that keeps you reading, even if the plot isn't dragging you in right away.
And Lizzie. Sweet, sweet, can't-keep-her-mouth-shut, Lizzie. I loved her, but gosh. She really bugged me sometimes. I mean, who in the world would fly all the way across the world to spend the summer with a guy who she's only technically been with for three months? I mean, in some cases I would say, "Hell yeah!", but in this case, "Hell, no, no, no, no!" She really quite annoyed me sometimes. I mean, was she really that oblivious at times? I'm really glad she learned in the end. That's what counts!
And Jean-Luc. Oh, my, my, my! Loved him! I mean, really, what's not to like? Sweet, charming, half-french, rich. Ahhh. Not that it's all about the money, because it definitely isn't. He was one of my favorite characters! Along with Shari and Chaz of course. Oh, and you can't forget Lizzie's Grandma! Even though she plays a VERY minor roll.
But Andy and Luke's girlfriend, er, can't remember her name right now. You don't wanna know the name I gave her throughout the whole book. I don't really know what to say about them, other than BOO!
Overall, this was a fun read. Loved mostly everything about it, other than the few things I mentioned. If you love Meg Cabot, or if you've never read a book buy her before, you'll love it. Meg Cabot is a fantastic author! Which is why after finishing this, I started another Meg Cabot book. Abandon, to be exact.



The second book in this series is called Queen of Babble in the Big City. It was released on July 1, 2007.