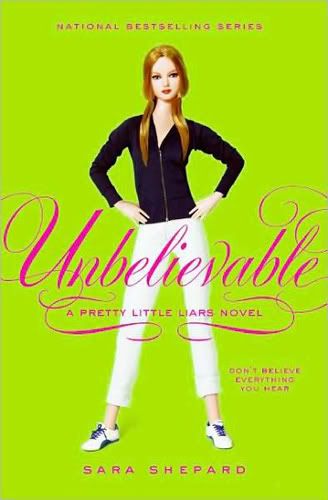 Unbelievable

, by Sara Shepard
(Pretty Little Liars, #4)
Publisher:
HarperTeen
Release Date: December 1, 2008
Paperback: 335 pages
Age Group: Young Adult
Buy:
Amazon
Source: Library
Challenge:
Support Your Local Library
Rating:


To learn more about my rating badges, click here!
Four pretty little liars' charmed lives have turned into living nightmares.

Emily's been shipped off to Iowa to live with her überconservative cousins. Aria's boyfriend is behind bars—because of her. Spencer's afraid she was involved in Ali's murder. But Hanna's fate is far worse: She's clinging to life in the hospital because she knew too much.

If these girls don't start listening to me, Hanna's going to look like the lucky one.
As some of you may know, I started this book right after finishing Perfect. I know I said that I thought Perfect was my favorite so far of the series, but I have found a new one. Unbelievable certainly lives up to its title. I just can't believe everything that happened in the fourth book. I'm still sitting here stunned, and all I'm going to say on that matter is 'A' is revealed in the fourth book. After learning who it was, I went through so many different emotions. Astonishment, victory of having this person on my suspect list, and then annoyance at thinking it was someone entirely different in the end before 'A' is revealed.
Sara Shepard definitely knows how to throw you off the track. She gives you clues here and there to make you suspect someone, who may or may not just be the person, but then she steers it toward someone completely different and makes you believe that this person could possibly really be 'A'. But then in the end it's the other person you may have suspected. It's very clever!
I know a lot of people may think that this is just a girly, fluffy series. But it's not. It's full of mystery and suspense. Even though I'm still a little weirded out by how different, but sometimes how close, the series and books are together, I still love the books and they have become a favorite series of mine.
In my opinion, I think this one is the most intense of the first four Pretty Little Liar books. In the beginning of this book, I thought I knew what to expect from this one. But I was wrong. I mean, some things I thought were going to happen, happened. But I never thought that maybe 'A' would be revealed, and even though I suspected the person who is revealed as 'A', at the same time I didn't think it could of been this person.
Overall, this is a great series and I can't wait to continue the series. Even though 'A' is revealed in this book, the pretty little liars aren't being let off that easily just yet. There are more lies and mystery to be revealed. After all, who really killed Ali?
The fifth book in the series is called Wicked. It was released on June 1, 2009.
Read my reviews of Pretty Little Liars (#1), Flawless (#2) and Perfect (#3)