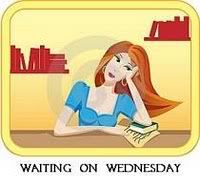 Waiting on Wednsday is a weekly meme hosted by Jill @ Breaking The Spine. WOW spotlights upcoming releases that you are dying to read and can't wait to get your hands on!
Note: All my links go to Goodreads, the author's website, and the publisher's website.
Release Date: January 17, 2012
Pre-Order:
Amazon
For months part-angel Clara Gardner trained to face the raging forest fire from her visions and rescue the alluring and mysterious Christian Prescott from the blaze. But nothing could prepare her for the fateful decisions she would be forced to make that day, or the startling revelation that her purpose—the task she was put on earth to accomplish—is not as straightforward as she thought. Now, torn between her increasingly complicated feelings for Christian and her love for her boyfriend, Tucker, Clara struggles to make sense of what she was supposed to do the day of the fire. And, as she is drawn further into the world of part angels and the growing conflict between White Wings and Black Wings, Clara learns of the terrifying new reality that she must face: Someone close to her will die in a matter of months. With her future uncertain, the only thing Clara knows for sure is that the fire was just the beginning.
I read the first book, Unearthly, in the beginning of the year and I LOVED it. I am so tempted to re-read it right now because I loved it so much. So naturally I'd want to read the sequel. I can't wait to get my hands on a copy of this! And aren't the covers for this series beautiful?!