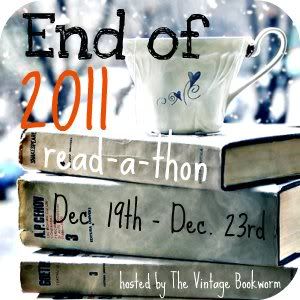 Guess what time it is! It is midnight, which means it is officially
December 19th
! The kick off for the
End of 2011 Read-a-Thon
! You
signed up
here,
posted your lists
here and now it's time to start reading those books on your list! =D I will be posting the daily questions now so you can go ahead and schedule your posts if you are able beforehand instead of having to wait for the new question to pop up.
Monday, December 19th

What is your favorite...?- Genre:
- Supernatural being:
- Love Triangle:
- Couple (non love triangle):
- Book gone tv show/movie:


Tuesday, December 20th

What is your top favorite books for 2011 in these categories? (No more than 5 each.)- Contemporary:
- Fantasy:
- Chick-lit:
- GLBT:
- Historical:
- Horror:
- Mystery:
- Mythology:
- Paranormal:
- Paranormal Romance:
- Romance:
- Urban Fantasy:
-Dystopian:
- Science Fiction:
(Note: You don't have to fill in all, and if there are any genre you don't see on here, please add it and add your favorites to it.)


Wednesday, December 21st




What top ten books are you looking forward to most in 2012?

Thursday, December 22nd

Are you participating in/hosting any 2012 reading challenges? If so, which ones?


Friday, December 23rd

How many books have you finished for the read-a-thon? Which one was your favorite?
Now, get ready, get set,

READ

!