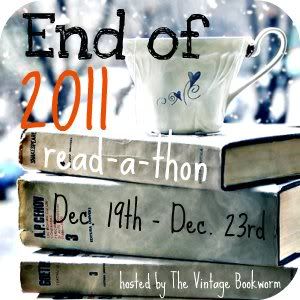 What top ten books are you looking forward to most in 2012?I have so many books I'm looking forward to, but the top ten off the top of my head are (In nor particular order.):

Unearthly! A Touch Mortal! The Demon Trapper's series! Hex Hall series! Bloodlines series! Abandon! Angelfire! Timeless! A Need So Beautiful!
Total books read on Day Three:
0
Total pages read on Day Three:
182
Total books read for read-a-thon:
0
Total pages read for read-a-thon:
390
I'm still not doing too great, but I finally got into a book. I'm currently read (And almost finished with.) It's Not Summer Without You, by Jenny Han. Hopefully it'll kick my butt into gear when I finish it. I'm most likely going to read the third and final book in the Summer series when I'm done with the second one, which I'm currently on. Hope everyone is doing better than me! Hopefully I'll be finish with this book. Going to try and finish it tonight!