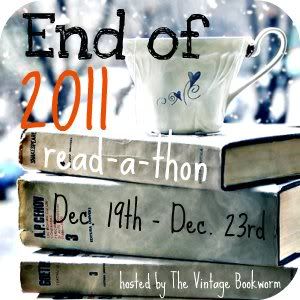 Are you participating in/hosting any 2012 reading challenges? If so, which ones?It's a little embarrassing to say, but I've already joined seven 2012 reading challenges, and will most likely join more. Because, you see, I'm addicted. Very addicted to reading challenges. It just can't be helped. Here are the ones I'm currently signed up for. Also, be sure to let me know some of the ones you are signed up for! Maybe I'll find a new one. =)
2012 Debut Author Challenge, hosted by Kristi @ The Story SirenI sign up for this challenge every year. It's always a great way to find brand new Young Adult authors and books!
2012 Off The Shelf Challenge, hosted by Bookish ArdourI signed up for this challenge last year, but I didn't get very far in this one. This is where you read books that was already on your shelf before starting the challenge. It gets all those poor, dusty, lonely books that you've been meaning to read, read.
2012 Dystopian Challenge, hosted by Bookish ArdourThis is my first year signing up for this one. I am very excited for this challenge. Dystopian has made a very huge trend the last few years, and I'm loving it! Can't wait to read some of those awesome sounding Dystopian books I've been hearing about.
2012 Sophomore Reading Challenge, hosted by Shanyn @ Chick Loves LitThis is great for all those second books published by all those awesome 2011 debut authors! Like the sequels in amazing series, or just the second book published ever in the Young Adult genre by the author. Can't wait! So many great books!
2012 YA/MG Fantasy Challenge, hosted by Erica @ The Book CellarI love fantasy, so this is the perfect challenge for me! All YA/MG fantasy books welcomed here. =)
2012 TBR Pile Reading Challenge, hosted by Evie @ BookishI have SO many books in my TBR pile, like, it's not even funny. You should see my Goodreads. This is definitely the perfect challenge for me! Also the perfect challenge for all you book reviewers out there. =D
2012 YA Contemporary Reading Challenge, hosted by Katie @ Katie's Book Blog & Angela @ Reading AngelI love YA Contemporary, and I've been trying to read more of it. But lately all I've been reading are Urban Fantasy or Paranormal Romances. It's refreshing to throw in a lot of Contemporary here and there. Going to definitely try harder this year to work more in.
The best of all, a lot of these challenges can cross! So one book can count in multiple challenges! Reading Challenges are so fun and really helps with your TBR list.
Total books read on Day Four:
1 (and the last 100 pages of 1.)
Total pages read on Day Four:
397
Total books read for read-a-thon:
2
Total pages read for read-a-thon:
787
Yes, this series kicked me into gear! I finished It's Not Summer Without You and then started and finished the third and final installment to the Summer series, by Jenny Han. I'm so sad it's ended. =( But it was beautiful! Hopefully I can work at least one more book in.