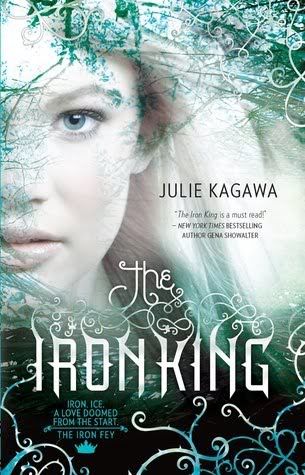 The Iron King

, by Julie Kagawa
(Iron Fey, #1)
Publisher:
Harlequin Teen
Release Date: February 1, 2010
Paperback: 363 pages
Age Group: Young Adult
Buy:
Amazon
Source: Bought
Challenge: A to Z, Book Blogger Recommendation, 350 Page
Rating:



To learn more about my rating badges, click here!
Meghan Chase has a secret destiny; one she could never have imagined.

Something has always felt slightly off in Meghan's life, ever since her father disappeared before her eyes when she was six. She has never quite fit in at school or at home.

When a dark stranger begins watching her from afar, and her prankster best friend becomes strangely protective of her, Meghan senses that everything she's known is about to change.

But she could never have guessed the truth - that she is the daughter of a mythical faery king and is a pawn in a deadly war. Now Meghan will learn just how far she'll go to save someone she cares about, to stop a mysterious evil no faery creature dare face; and to find love with a young prince who might rather see her dead than let her touch his icy heart.
FINALLY! I finally read this. I've been meaning to since before it came out. I've been wanting to read this amazing book for so, so long and I have finally done it. This was one of those books that I knew from the very beginning--since reading the summary for the first time--that I was going to love it. I wasn't wrong. I was definitely not wrong.
You are captured from the very beginning. You are sucked into Meghan's world as a normal teenage girl, who has normal teenage problems. She's not popular, she's not rich, and she has family problems. She's not handed anything she wants.
Meghan started out as a timid character. She didn't know who she truly was, I mean yeah, she catches a glimpse of shadows here and there and she sees some things one minute and then blinks and their gone, but she was just "Whatever" about it. But then as it gets closer to her sixteenth birthday it keeps getting stranger and stranger until her sixteenth birthday and then she's sucked into this world she didn't know existed. And she starts learning more about herself, and she starts blossoming and growing into this new, stronger, fierce person. But it didn't happen overnight or in the blink of an eye, it gradually happened and the pacing was great!
There were so many times in this book that I was just like, "No! That can't happen!" and yes, it was something the reader would be pissed that would happen, but it had to happen. Sometimes authors don't show that enough. Sometimes it seems like the readers are just handed what they wanted, and that isn't always right.
Everything was so realistic. Yes, it's fantasy, and there are fantastical creatures in it, but it was real to me. And dark! It was a lot darker and twisted than I thought. I never expected it at all! Never! And I absolutely adored it! There were a few things in here that I recognize from other fae books I've read and it really has me curious! I know that it has some references to A Midsummer's Night Dream, but I'm really curious if there is more of a legend going. So I'm going to research that soon.
Overall, I highly recommend this book. I loved it and I can't wait to get my hands on a copy of The Iron Daughter. I will be putting that on hold from my library as soon as possible. It has a very high standard to live up to. Just sayin'! I know I'll love it.
The second book in this series is The Iron Daughter. It was released on July 27th, 2010.