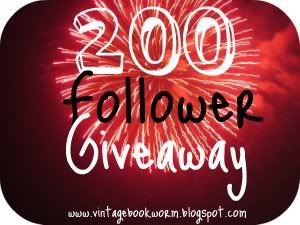 Yes! Another giveaway! My second one! I noticed earlier that I have reached 200 followers, and though it's not as much as some amazing bloggers out there, I am still very thankful to have them. 200 followers is A LOT to me. I'm sorry I can't do an amazing giveaway for all of you, I really wish I could. But I don't have the money at all to do it. I promise though that once I do have it, I will do an epic giveaway. I can't even afford postage right now.
I know some of you may have noticed I have started my own blog for creating custom layouts in exchange for books. I love making layouts and I know many of book bloggers who would love a custom layout, but like me, can't afford to pay $100+ for a custom made layout. So I created
Vintage Bookworm Designs
.
Vintage Bookworm Designs is still very new. It hasn't really gotten out there yet. So I've decided to have a giveaway for a custom made layout created by me. =) Please go take a look at my blog and check out my portfolio. There isn't much on there, but there is a bit of things I have done. I'm much better creating layouts for other people than for myself. Ha! Not sure how that works.
Giveaway Details
Must be 13 years or older
Only for blogs hosted by Blogger. Sorry!
There will be three winners
Contest will end on January 26th, 2011
Must be a follower to enter the giveaway!

The winner will be announced on the blog at the end of the contest

The winner will have 72 hours to reply after being notified or a new winner will be chosen
a Rafflecopter giveaway