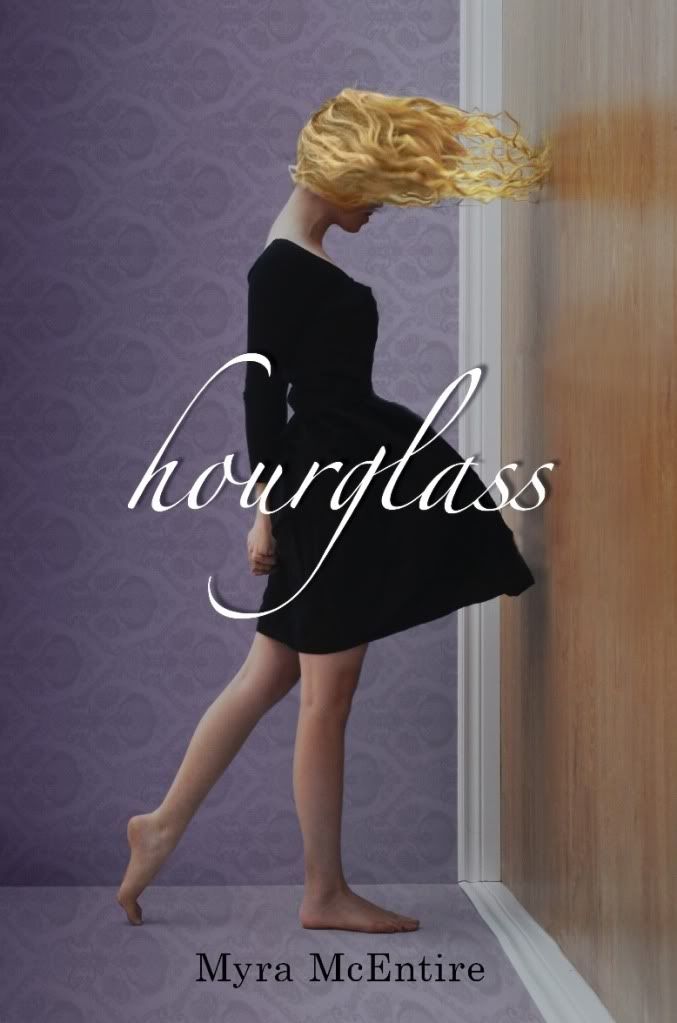 Hourglass
, by
Myra McEntire
(
Hourglass
, #1)
Publisher:
Egmont USA
Release Date:
June 14, 2011
Hardcover:
400 pages
Age Group:
Young Adult
Buy:
Amazon
Source:
Library
Challenge:
TBR Pile
Rating:


To learn more about my rating badges, click here!
One hour to rewrite the past . . .

For seventeen-year-old Emerson Cole, life is about seeing what isn't there: swooning Southern Belles; soldiers long forgotten; a haunting jazz trio that vanishes in an instant. Plagued by phantoms since her parents' death, she just wants the apparitions to stop so she can be normal. She's tried everything, but the visions keep coming back.




So when her well-meaning brother brings in a consultant from a secretive organization called the Hourglass, Emerson's willing to try one last cure. But meeting Michael Weaver may not only change her future, it may change her past.

Who is this dark, mysterious, sympathetic guy, barely older than Emerson herself, who seems to believe every crazy word she says? Why does an electric charge seem to run through the room whenever he's around? And why is he so insistent that he needs her help to prevent a death that never should have happened?
This book completely--Seriously. COMPLETELY!--blew me away. This is yet
another
book that I have read this year that I want to immediately go and re-read. How is that possible?! Another 2011 Debut book that was absolutely amazing. I seriously don't even think there was anything that bothered me about this book.
I was hooked from the first page. It doesn't sit there and start out giving you some back story or let you be introduced by the character telling you who she was. Nope. It threw you right in and made you wonder about her ability. I seriously thought one thing about her ability, but then it took a twist and it was something completely different. Though the story was amazing, I was a little worried because I thought it was a certain ability that has shown up a bit. But time travel?! Whoa!
The book starts out as her knowing about her ability--which I am VERY happy about. Most books now days make them figure it out--but she doesn't know much about it, or why she does it. Her brother has tried so many different people who he finds and thinks may know what to tell them about Emerson's ability, but he has failed. But then he finds Michael. And wow. Just wow. *swoon*
All the characters in this book is so full of personality and it truly amazed me. I liked every character. Even the bad guys! Okay, except for Ava. I wanted to slap her so bad. I wish Emerson would have. I would have laughed SO hard at that. By the way, have I mentioned that Emerson knows karate?! She's totally kick-ass!
Overall, read this book. It's amazing. I want to go back right now and re-read it just thinking about it. I don't know what else to say other than I NEED--Yes.
NEED.
-- the sequel, Timepiece, RIGHT
NOW
.
The second book in this series is called Timepiece. It is set to be released on June 12th, 2012.