Past, Present, & Future Reading Pile
is a new feature on my blog where I "hopefully" post every Monday to keep track of the books I've read the week before, what I'm currently reading and which books I hope to start and finish during that week.
*Note*: If you've seen a similar thing around, please let me know so I can credit them saying they were what inspired this new feature. Thanks!
The Past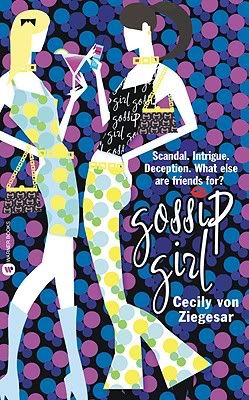 Release Date: April 1, 2002
Welcome to New York City's Upper East Side where my friends and I live, and go to school, and play, and sleep- sometimes with each other. We all live in huge apartments with our own bedrooms and bathrooms and phone lines. We're smart, we've inherited classic good looks, we have fantastic clothes, and we know how to party... Introducing Gossip Girl, a wickedly funny and risqu» paperback original novel about the provocative lives of New York City's most prestigious private school young adults. Gossip Girl herself is an anonymous narrator with the ultimate insider scoop on the inner-workings of this privileged society because she's one of them. Sharp wit, intriguing characters, and high stakes melodrama drive the action of this addictive novel that will make Gossip Girl the lit world's new "it" girl. In Gossip Girl, when the beautiful Serena van der Woodsen returns to private school after mysteriously getting kicked out of boarding school, the whole school is talking. All Blair Waldorf knows is that there's no freaking way Serena's going to just waltz back in with her Jimmy Choo mules and Kate Spade bag and steal everyone's heart again. But Serena's got other things on her mind, like college pressure and living up to everyone else's extreme expectations. Plus there's that Ryan Phillippe-looking guy who stands across the street and stares at her all the time. It's going to be a wild and wicked year, I can smell it. Love, Gossip Girl
I only got around to reading one full book this week and this one was it. My review is set to be published on Thursday, January 26, 2012.
The Present
Release Date: February 3, 2009
After a horrible accident claims the lives of her family, sixteen-year-old Ever Bloom can see people's auras, hear their thoughts, and know someone's entire life story by touching them. Going out of her way to avoid human contact and suppress her abilities, she has been branded a freak at her new high school-but everything changes when she meets Damen Auguste.

Damen is gorgeous, exotic, and wealthy. He's the only one who can silence the noise and random energy in her head-wielding a magic so intense, it's as though he can peer into her soul. As Ever is drawn deeper into his enticing world of secrets and mystery, she's left with more questions than answers. And she has no idea who he really is-or

what

he is. The only thing she knows to be true is that she's falling deeply and helplessly in love with him.
This is a re-read and I must say that I forgot how great it was.
After I finish re-reading Evermore, I'm going to attempt to continue on and read Blue Moon and then if I finish it I'm going to re-read Stray!
Maybe I'll get a lot more read this week.
What are your Past, Present & Future Reads? Leave a comment telling me what books you just finished, what book you're currently reading and what books you hope to get to this week. =D
Happy reading! I hope everyone had a great week last week!