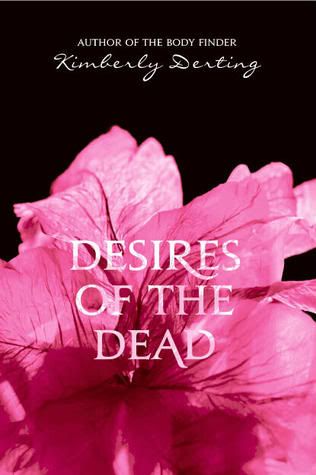 Desires of the Dead
, by
Kimberly Derting
(
The Body Finder
, #2)
Publisher:
HarperTeen
Release Date:
February 15, 2011
Hardcover:
368 pages
Age Group:
Young Adult
Buy:
Amazon
Source:
Library
Challenge:
TBR Pile
Rating:


To learn more about my rating badges, click here!
The missing dead call to Violet. They want to be found.

Violet can sense the echoes of those who've been murdered—and the matching imprint that clings to their killers. Only those closest to her know what she is capable of, but when she discovers the body of a young boy she also draws the attention of the FBI, threatening her entire way of life.

As Violet works to keep her morbid ability a secret, she unwittingly becomes the object of a dangerous obsession. Normally she'd turn to her best friend, Jay, except now that they are officially a couple, the rules of their relationship seem to have changed. And with Jay spending more and more time with his new friend Mike, Violet is left with too much time on her hands as she wonders where things went wrong. But when she fills the void by digging into Mike's tragic family history, she stumbles upon a dark truth that could put everyone in danger.
Even though I absolutely loved the first book, this one took me a little bit to get into. I don't really know why. But as soon as I kept reading and got a little ways in, it completely dragged me into the story and I was hooked all over again. I love Violet's world, no matter how creepy and dark it may be sometimes.
I love the mystery in this series. This one had a pretty big twist in it, making you think it was one person, but another person held the imprint. Sometimes I was able to predict what would happen next, but not always.
This series is a little creepy sometimes to read at night. I was always looking around to make sure I wasn't being watched. I knew I wasn't, but I felt like I was, which adds a bit to the story, ha! And just like the first book, their is some parts in the book from someone else's point-of-view which adds to the mystery of trying to figure out who it is.
Even though you don't get a whole lot about Mike, the new character, you get to know a lot about his past and his family. And I absolutely adore Jay. So. Freaking. Much. *swoon* They are so adorable! It makes me smile every time they are together. Their relationship grows and despite some bumps in the road, they came out stronger in the end. I also think that there may be a love triangle in the third book, which I'm kind of curious about, though I am so Team Jay!
I also really liked Sara Priest and Rafe. I'm very, VERY curious to hear more about them and to see what sort of ability Rafe may have.
Overall,
Desires of the Dead
wasn't as amazing as
The Body Finder,
but it definitely was a great book and I can't wait to read the next book. I'm very excited for it!
The third book is called The Last Echo. It is set to be released on April 17th, 2012. Click here to read my review for The Body Finder.