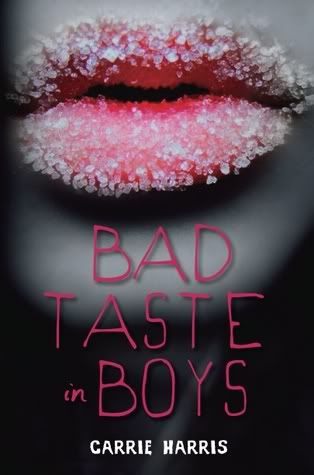 Bad Taste In Boys
, by
Carrie Harris
(
Kate Grable
, #1)
Publisher:
Delacorte Press
Release Date:
July 12, 2011
Hardcover:
201 pages
Genre:
Young Adult Paranormal
Buy:
Amazon
Read it in:
1 day
Source:
Library
Challenge:
TBR Pile
Rating:


To learn more about my rating badges, click
here
!
Someone's been a very bad zombie.

Kate Grable is horrified to find out that the football coach has given the team steroids. Worse yet, the steriods are having an unexpected effect, turning hot gridiron hunks into mindless flesh-eating zombies. No one is safe--not her cute crush Aaron, not her dorky brother, Jonah . . . not even Kate! She's got to find an antidote--before her entire high school ends up eating each other. So Kate, her best girlfriend, Rocky, and Aaron stage a frantic battle to save their town . . . and stay hormonally human.
This was a quick and enjoyable read. It's one of those books that has supernatural beings in it, but it's not meant to be taken serious. It was funny and really sets the pace to be intriguing, yet not something that will make your heart race.
The characters were pretty funny. I hope they develop a lot better in the sequel. Kate was a pretty strong, smart character. She definitely seems to work well under stress and does what it takes to save the day. She bugged me a little bit at times, but overall she was a pretty cool character. Can't wait to see what she has in store for us in the sequel! All the other characters felt a teensy bit flat to me, but were pretty funny at times. I like Jonah and Aaron.
A lot of times it seemed a bit unbelievable, but that was in the way I said before on it not something you would take seriously.
Overall, it was a fun read and I'll definitely be reading the sequel. I may even go back later this year or next year and re-read it. Give me something light and non-serious to read. If you like zombies and want something short and fun to read, I would recommend it.

The second book in the series is called Bad Hair Day. It will be released on Novemeber 13, 2012.
Oh, and by the way, keep a lookout for Shanyn from ChickLovesLit & Tirzah from The Compulsive Read. They may make an appearance in the trailer. =P