Past, Present, & Future Reading Pile
is a new feature on my blog where I "hopefully" post every Monday to keep track of the books I've read the week before, what I'm currently reading and which books I hope to start and finish during that week.
The Past
Release Date: February 17, 2010
Being the first female werecat enforcer isn't easy. Scars accumulate, but I'm stronger in so many ways.




As for my personal life? It's complicated. Choices worth making always are. Ever since my brother's death and my father's impeachment, it's all I can do to prevent more blood from spilling. Now our Pride is under attack by a flight of vicious thunderbirds. And making peace with our new enemies may be the only way to get the best of our old foe.




With the body count rising and treachery everywhere, my instincts tell me to look before I leap. But sometimes a leap of faith is the only real option...
One more book in this series left. I'm really sad. =( You can read my review of Shift
here
.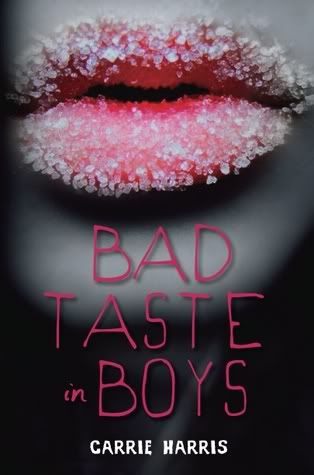 Bad Taste In Boys
, by
Carrie Harris
(
Kate Grable
, #1)
Publisher:
Delacorte Press
Release Date:
July 12, 2011
Someone's been a very bad zombie.

Kate Grable is horrified to find out that the football coach has given the team steroids. Worse yet, the steriods are having an unexpected effect, turning hot gridiron hunks into mindless flesh-eating zombies. No one is safe--not her cute crush Aaron, not her dorky brother, Jonah . . . not even Kate! She's got to find an antidote--before her entire high school ends up eating each other. So Kate, her best girlfriend, Rocky, and Aaron stage a frantic battle to save their town . . . and stay hormonally human.
This one was a pretty enjoyable, funny, non-serious book. My review will be up tomorrow. Monday, February 19, 2012.
Fins Are Forever
, by
Tera Lynn Childs
(
Fins
, #2)
Publisher:
HarperCollins
Release Date:
June 28, 2011
On Lily Sanderson's eighteenth birthday she'll become just a girl—still a mergirl, true, but signing the renunciation will ink Princess Waterlily of Thalassinia out of existence. That leaves plain old Lily living on land, dating the boy she loves, and trying to master this being-human thing once and for all.




Now that Lily and Quince are together, mer bond or not, she's almost content to give up her place in the royal succession of Thalassinia. But just when she thinks she has everything figured out, the waves start to get rough. Lily's father sends a certain whirlpool-stirring cousin to stay with her on land. What did Doe do to get herself exiled from Thalassinia and stuck in terraped form, when everyone knows how much she hates humans? And why why why is she batting her eyelashes at Lily's former crush, Brody?




The seafoam on the raging surf comes when a merboy from Lily's past shows up—Tellin asks Lily for something that clouds her view of the horizon. There's a future with Quince on land, her loyalty to the kingdom in the sea, and Lily tossing on the waves in the middle. Will she find a way to reconcile her love, her duty, and her own dreams?
I can't wait for Just For Fins!! I hope it's not the last one. My review for Fins Are Forever will be up on Thursday, February 23, 2012.
Total Books: 3
The Present
Starters,
by
Lissa Price
(
Starters
, #1)
Publisher:
Delacorte Press
Release Date:
March 13, 2012
HER WORLD IS CHANGED FOREVER




Callie lost her parents when the Spore Wars wiped out everyone between the ages of twenty and sixty. She and her little brother, Tyler, go on the run, living as squatters with their friend Michael and fighting off renegades who would kill them for a cookie. Callie's only hope is Prime Destinations, a disturbing place in Beverly Hills run by a mysterious figure known as the Old Man.




He hires teens to rent their bodies to Enders—seniors who want to be young again. Callie, desperate for the money that will keep her, Tyler, and Michael alive, agrees to be a donor. But the neurochip they place in Callie's head malfunctions and she wakes up in the life of her renter, living in her mansion, driving her cars, and going out with a senator's grandson. It feels almost like a fairy tale, until Callie discovers that her renter intends to do more than party—and that Prime Destinations' plans are more evil than Callie could ever have imagined. . . .
I'm an Ambuzzador for
Random Buzzers
this season, so I received Starters in the mail to review for it. It's a debut book for Lissa Price this year which I'm happy about, plus its a Dystopian! I'm only 50 or so pages in so far, but it's really interesting!
The Future
After I finish Starters, I'm going to read another debut author's book for 2012; Illuminate. It sounds really good! I can't wait to dive into it. And since I'm trying to save Alpha, the last Shifters book by Rachel Vincent, I'm going to distract myself by diving back into Evie's world in Supernaturally.
So, as always, w

hat books did you read this week? What are you currently reading? What are you planning to read next? Leave your comments below.
I hope you have an awesome week and read some awesome books!