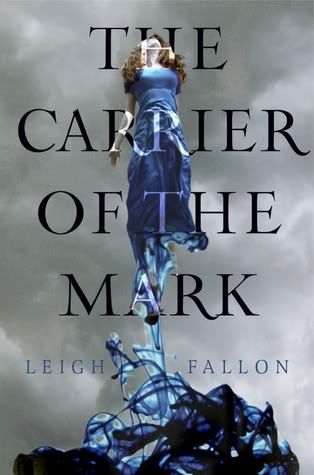 Carrier of the Mark
, by Leigh Fallon
(Carrier Trilogy, #1)
Publisher:
HarperTeen
Release Date: October 4, 2011
Paperback: 342 pages
Genre: Young Adult Paranormal Romance
Buy:
Amazon
Read it in: 2 days
Source: Library
Challenge:
TBR Pile
Rating:


To learn more about my rating badges, click
here
!
From the moment she sets foot at her new school in Ireland, Megan is inexplicably drawn to the darkly handsome Adam DeRis. But Megan soon discovers that her feelings for Adam are tied to a supernatural fate that was sealed long ago—and that the passion and power that unites them could be their ultimate destruction.
I've wanted to read this book the moment I saw that it was discovered through
InkPop.com
. As an aspiring YA author, that really inspired me and once I read the summary, I had to read it. I checked my library catalog for weeks after it was released and finally last month I saw that it was on order and I put it on hold. It's been waiting for me to read it for a couple of weeks.
I've heard mixed reviews on this book. A lot of them good, but a few that are bad. I got a little worried, but after a couple of pages in, I knew I would love this book. I had a few problems, but nothing too major.
This book reminds me a little bit of
A Witch in Winter
. Which I did like, but not as much as I do this one. The writing flowed nicely and I was easily through with fifty pages before I knew it.
The characters were fun to read about and I was really glad that Megan was strong and not a damsel in distress. She took all the information she learned about herself with maturity and didn't whine about it. And I really liked Adam. Sometimes he was a bit too good to be true, but I loved him for it.
The only thing I can think of that bugged me was how easily Megan and Adam fell in love. I get that they had a connection, but it just bothered me a little bit. But don't get me wrong, I love their relationship. I'm rooting for them!
Overall, this was an enjoyable read. I flew through it and I'm looking forward to the sequel. I wish I had it right now to devour! This was a unique storyline. When I read about the summary and read reviews on it, I thought they were witches. But they aren't! But there is some magic involved. I can definitely see myself re-reading this in the future, and though I do love to re-read my favorite books, I'm not necessarily a re-reader.
The second book in the series is called Dawn of the Knights. It is set to be released in 2012.