Past, Present, & Future Reading Pile
is a new feature on my blog where I "hopefully" post every Monday to keep track of the books I've read the week before, what I'm currently reading and which books I hope to start and finish during that week.
The Past
Release Date: February 1, 2009
I'm on trial for my life. Falsely accused of infecting my human ex-boyfriend--and killing him to cover up the crime. Infecting a human is one of three capital offenses recognized by the Pride--along with murder and disclosure of our existence to a human.

I'm two for three. A goner.

Now we've discovered a rogue stray terrorizing the mountainside, hunting a wild teenage tabbycat. It's up to us to find and stop him before a human discovers us. With my lover Marc's help, I "think" I can protect the vulnerable girl from both the ambitious rogue and the scheming of the territorial council.

"If" I survive my own trial...
I love this series. LOVE. You can read my review here.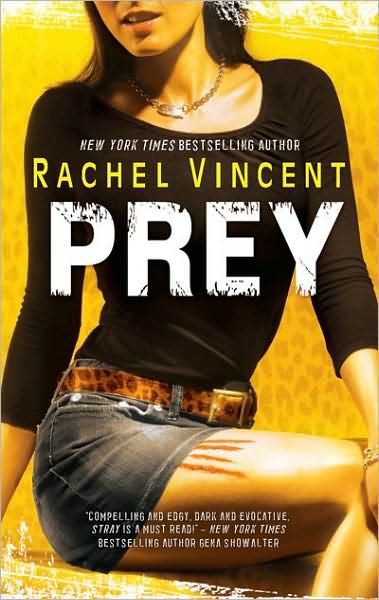 Release Date: July 1, 2009
Sometimes playing cat and mouse is no game...

Play? "Right." My Pride is under fire from all sides, my father's authority is in question and my lover is in exile. Which means I haven't laid eyes on Marc's gorgeous face in months. And with a new mother "and" an I-know-everything teenager under my protection, I don't exactly have time to fantasize about ever seeing him again.

Then our long-awaited reunion is ruined by a vicious ambush by strays. Now our group is under attack, Marc is missing and I will need every bit of skill and smarts to keep my family from being torn apart. Forever.
I only have two more books in this series to read. =( I am very sad. I really want to be reading them right now, but I also kind of want to save them. Forever. But I can't do that because I'm dying to know what happens. Have I mentioned how much I LOVE this series? Seriously. You can read my review for Prey
here
.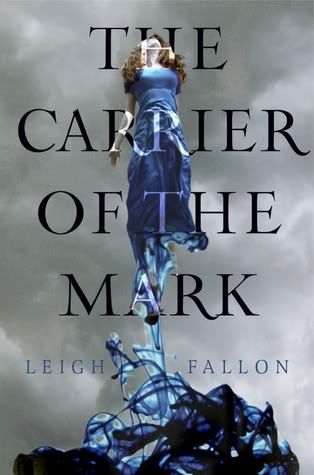 Release Date: October 4, 2011
From the moment she sets foot at her new school in Ireland, Megan is inexplicably drawn to the darkly handsome Adam DeRis. But Megan soon discovers that her feelings for Adam are tied to a supernatural fate that was sealed long ago—and that the passion and power that unites them could be their ultimate destruction.
Wow! Can't wait for the next one. My review for this one will be up on Thursday, February 16th. =) Also, by the way, the Paperback copy I got from the library says "Carrier of the Mark", but the one in the picture says "THE Carrier of the Mark". I also see "Carrier of the Mark" in some places on the web and "The Carrier of the Mark" in other places. I know it doesn't really matter, but it just kind of annoys me a little bit. You know what I mean? Ha! But the cover is beautiful and the book it AMAZING. =D
Total Books: 3
The Present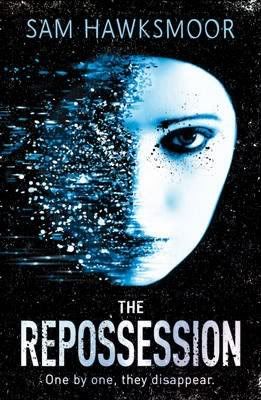 Release Date: March 1, 2012
34 kids missing. Vanished without a trace.




Believing she is possessed, Genie Magee's mother has imprisoned her all summer encouraged by the sinister Reverend Schneider. Beautiful Rian, love of her life, sets her free, and their escape washes them up at Marshall's remote farmhouse downriver. But why are there newspaper clippings of the missing kids pinned to Marshall's bathroom wall? And should they believe his stories about the experiments at the Fortress, an underground research station nearby?




Genie meets Denis. Missing two years now, but hasn't grown an inch. Rian is haunted by Renée, who insists she's not actually dead. Soon they discover the terrible truth about Reverend Schneider and worse, Genie is next ... and Rian can't do a thing to prevent it.




The Repossession is just the beginning.
I haven't started this yet, but I will later on tonight. I got this book for review from Hodder's Children Books. It sounds very interesting. =)
The Future
After I finished The Repossession, I'm going to dive in happily to Shift, and then if I finish that I'm hoping to read Bad Taste in Boys. =) I hope I get all of these done this week.
What books did you read this week? What are you currently reading? What are you planning to read next? Leave your comments below.
Happy reading and I hope you have an awesome week!