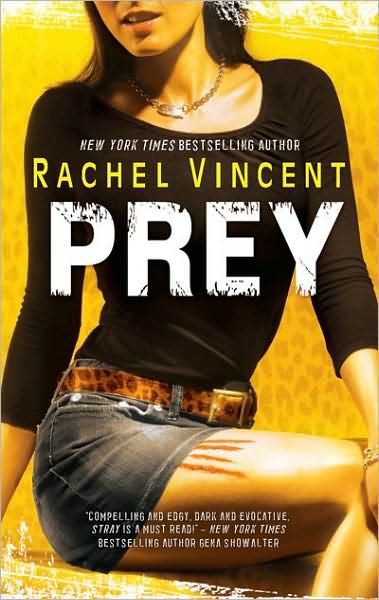 Prey
, by
Rachel Vincent
(
Shifters
, #4)
Publisher:
Mira
Release Date:
July 1, 2009
Mass Market Paperback:
394 pages
Genre:
Adult Urban Fantasy/Paranormal Romance
Buy:
Amazon
Read it in:
2 days
Source:
Library
Challenge:
TBR Pile
Rating:



To learn more about my rating badges, click
here
!
Sometimes playing cat and mouse is no game...

Play? "Right." My Pride is under fire from all sides, my father's authority is in question and my lover is in exile. Which means I haven't laid eyes on Marc's gorgeous face in months. And with a new mother "and" an I-know-everything teenager under my protection, I don't exactly have time to fantasize about ever seeing him again.

Then our long-awaited reunion is ruined by a vicious ambush by strays. Now our group is under attack, Marc is missing and I will need every bit of skill and smarts to keep my family from being torn apart. Forever.
Oh my God. Did all of that really just happen?! My head is still trying to wrap around everything. Especially the Ethan thing, which I'm not going to say, and just what will be happening in the next book. This will be a short review because I'm getting deeper in the series and I don't want to reveal any spoilers.
All I can say is this is a fantastic series. Gets better and better and it's so action filled and Faythe is one bad-ass heroine! She never fails to amaze me. And aah, Marc and Jace. I love them both. Marc a little more, but Jace is inching his way up with every book. What will happen with this?!
I only have two more books in the series to read, which I am definitely sad about. If this series had a hundred books in it, I can honestly say I would read each and every one of them and not think twice about it. It could probably have no real plot and I would still love it.
Rachel is a fantastic author and this series is definitely my top favorite Adult series. Probably my top favorite series that involves some sort of shifter.
Overall, this series is amazing. Read it. It has everything. Great writing, great characters, great plot lines, action, mystery, ROMANCE! And werecats. Yes. WERECATS. Not werewolves. WERECATS. Big panther-like werecats.
Note & Warning:
This is an Adult series. There are some scenes in this book that may not be suitable for those under the age of 16.
The fifth book in this series is called Shift. It was released on February 17th, 2010.