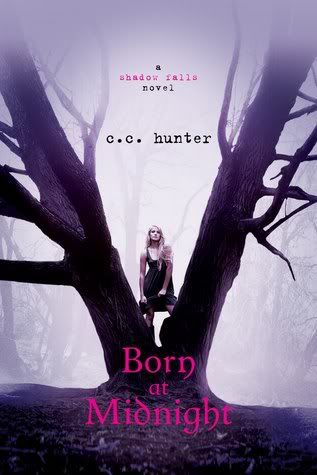 Born at Midnight
, by
C.C. Hunter
(
Shadow Falls
, #1)
Author Info: Website
|
Twitter
|
Facebook
Publisher:
St. Martin's Press
Release Date:
March 29, 2011
Paperback:
398 pages
Genre:
Young Adult - Paranormal
Buy:
Amazon
Read it in:
13 days
Source:
Library
Challenge: TBR Pile|
ABC Reading
Rating:


To learn more about my rating badges, click
here
!
One night Kylie Galen finds herself at the wrong party, with the wrong people, and it changes her life forever. Her mother ships her off to Shadow Falls—a camp for troubled teens, and within hours of arriving, it becomes painfully clear that her fellow campers aren't just "troubled." Here at Shadow Falls, vampires, werewolves, shapshifters, witches and fairies train side by side—learning to harness their powers, control their magic and live in the normal world.




Kylie's never felt normal, but surely she doesn't belong here with a bunch of paranormal freaks either. Or does she? They insist Kylie is one of them, and that she was brought here for a reason. As if life wasn't complicated enough, enter Derek and Lucas. Derek's a half-fae who's determined to be her boyfriend, and Lucas is a smokin' hot werewolf with whom Kylie shares a secret past. Both Derek and Lucas couldn't be more different, but they both have a powerful hold on her heart.




Even though Kylie feels deeply uncertain about everything, one thing is becoming painfully clear—Shadow Falls is exactly where she belongs…
First off, I want to start by saying that despite the fact it took me 13 days to start AND finish this book, it was a fun, quick read. I've had some issues with my health, so I haven't been reading much. But I couldn't stop thinking about this book! It was unique! I mean, a camp for paranormals? I was intrigued, and very curious about Kylie!
This was a great start to the series, I wish I had grabbed the sequel when I saw it, but wanted to wait. And now I'm kicking myself majorly! I really want to know what happens next!
Kylie was a great character. I had some issues with her at times, sometimes she seemed really whiny. Which she definitely has a right to be! But with her finding out she's different--as in paranormal different--and that she didn't want to be "different", it kind of bugged me. But she was definitely snarky and funny, which I love in a character.
At times it seemed to just be "I woke up, I ate lunch, I did camp activities, my roommates were fighting, again, and I went to bed". But it was kind of in hat way where you didn't really care all that much. I kept waiting for something to happen.
Overall, not a lot happened, the way I wanted it to, but it was still intriguing and it definitely kept me reading. All the characters were fun to read about, even Fredericka (Ick!). There were two, almost three, guys that Kylie was interested in. She bounced back in forth depending on the time. But it was fun to read! I can't figure out which guy out of the main two (D & L) I like more. Fun & safe fae (Who is also kind of...shady?), or sexy, light-you-on-fire, werewolf (Who is also kid of...not safe?)?
If you love paranormal, I definitely recommend this book. I'm dying to read book two. I've been getting a bit burnt out on paranormals lately when I see new books because they are all starting to sound the same, but this is definitely different!
The second book in this series is called Awake at Dawn. It was released on October 11, 2011.